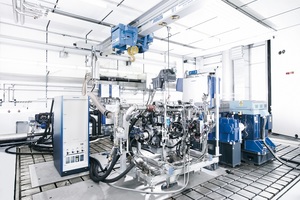 Test Factory Utilities for Heavy-Duty On-Road Testing
The facilities are equipped and well-prepared for steady state and dynamic engine testing. Drive cycles combined with vehicle/drivetrain simulation and CVS measurement on engine testbeds are available.
---
AVL Approach
Commercial vehicle powertrain testing on engine and chassies test bed

Heavy duty engine testbed up to 660kW
AC dyno
Up to 4,400 Nm
Up to 4,200 rpm
0.52 – 10.7 kgm²
Fully equipped for the measurement of worldwide emission legislation limits (e.g. Tier 4).
Facilities for CFR-1065 certification testing.
Vehicle chassis dyno testbeds
4WD climatic & emission CD, up to 200 km/h
4WD function & emission CD, up to 250 km/h
4 WD acoustic CD, up to 200 km/h
Fully equipped for the measurement of world wide emission legislation limits.
(e.g. EU6, Tier2Bin2, etc.)
On-board vehicle measurements
Measuring of on-board opacity, fuel, drivability, indicating and soot.
Test track for heavy-duty and off-road vehicles
Raw gas, pre & post catalyst, FTIR, mass spectrometer, smoke meter, opacimeter, particle counter, micro soot sensor, gravimetric particle measurement, CVS,
chemical analysis of fuel, lubricants and emissions (particulates).
---