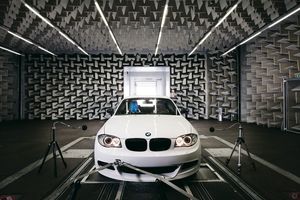 Acoustic Engineering for Passenger Cars
Powertrain development and in-vehicle integration necessarily include plenty of NVH development. Based on our more than 40 years of experience we support our worldwide customers in their developments by simulation and experimental acoustic development. In the case of remaining NVH topics, we also provide solutions and a second opinion for powertrain and vehicle NVH refinements.
---
AVL Approach
The AVL Acoustic Engineering team supports our customers and provides latest NVH development tools and methodologies, NVH facilities and engineering capabilities to develop individual solutions for, and together with, our customer. AVL's major services which focus on NVH development are:
Engine and Powertrain NVH Development
Vehicle NVH Refinement
NVH Powertrain Integration
Vehicle and Powertrain NVH Simulation
Sound Engineering
NVH Software and Methodology Development
The excellent know-how and innovative ideas as well as the strong link of the NVH team to other skill teams within AVL, ensures a successful outcome of each and every project and generates an additional benefit for our customers.
In order to support our engineers during NVH development, AVL have developed specialized NVH tools. These tools are designed and implemented under the lead of acoustic engineers to meet the engineer's needs. Please find a detailed description of our tools in the "Acoustic Engineering Tools" section.
---
Customer Benefits
Based on our more than 40 years of experience and our ongoing R&D effort to improve processes, analysis methodologies and refinements we provide following services to our customers:
Your Benefits
Confidence and reliability through production-feasible, cost-effective and proven NVH solutions
AVL's in-house research and strong involvement in national and EU research projects supports a view beyond technology horizons
One experienced partner for NVH simulation and experimental acoustic development
Know-how transfer to your resident engineers
Complete confidentiality for all our projects
Second opinion from an independent partner
Close cooperation through manifold AVL engineering centers worldwide with on-site support of highly qualified staff
Project work in close cooperation between OEM's, AVL and sub-suppliers as well as integration of project work in the OEM development process
Customized work packages for every scope – from small troubleshooting to large scale projects, from concept up to SOP
The unique competence synergies of AVL's three business areas Advanced Simulation Technologies,Powertrain Engineering and Instrumentation and Test Systems is the basis for each NVH project
---
References
Satisfied customers are the best evidence for successful projects and developments. The AVL acoustic engineering team has performed customer projects as well as research projects for more than 40 years. Due to confidentiality reasons, the published references for our work are limited – but this is also part of our sustainable success.
Latest Project Examples
Powertrain NVH integrations:

Mounting system layout
Intake and exhaust system development and refinement
Driveline development
Vehicle NVH assessment and improvement

Efficient driveline refinement by simulation and experimental development.
---