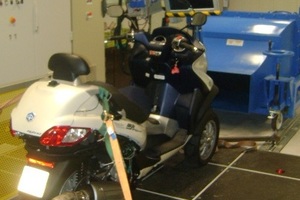 Electrified 2-Wheeler
The importance for emission-free mobility especially in congested city traffic is recognized in Asia, and especially in China where only electrified 2-Wheeler are permitted to enter downtown traffic area. A similar trend also can be seen in Europe, not only for electric bicycles, but also strong public interest for electric mopeds and strong e-Bikes. The electrified 2-Wheeler offers a very big potential in this specific attempt for environmental friendly mobility as well as convenience and fun to drive.
---
Whereas only comparably small volumes of electric cars have been sold all around the globe, the electrified 2-Wheeler already have been sold in millions of units. This easily can be understood, because such vehicles offer a very high degree of mobility at comparably small investment and operational cost.
AVL Approach
AVL is able to use to provide tailored solutions for various kinds of electrification applications for all kinds of power ranges of 2-Wheeler, including minimum transportation vehicles, E-mopeds up to strong E-Bikes and luxury E-Scooters.
The scope of engineering services includes:
Electric system layout
Battery design and simulation
Electric Motor design and simulation
Electric components development and prototyping (Battery, E-Motor, Inverter, etc.)
Controls and functions development
Complete vehicle development
Benchmarking of E-Bikes
---
Customer Benefits
AVL deeply is involved in the design and development of all the relevant components for automotive electrification and therefore is able to deliver specific solutions for electrified 2-Wheeler:
E-motors
Batteries
Charge and power controls
Hybrid systems including combustion engine
Since many years AVL is engaged in extensive development programs for all kind of different E-mobility and Hybrid applications. Supported by own R&D activities in this particular field of business, AVL has established a profound know-how in 2-Wheeler and electrification technology. Our customers also profit from extensive synergies utilized from all the other automotive development programs examined at AVL.
---