{attributes={}, name=downloadList, data=, type=selection_break, options=[], optionsMap={}, mainTitle={attributes={language-id=en_US}, name=mainTitle, data=Discover more, type=text, options=[], optionsMap={}}, sectionList={attributes={}, name=sectionList, data=, type=selection_break, options=[], optionsMap={}, sectionIcon={attributes={language-id=en_US}, name=sectionIcon, data=newsletter, type=list, options=[], optionsMap={newsletter=Newsletter, download=Download, software=Software, white-paper=White Paper, webinar=Webinar}}, sectionName={attributes={language-id=en_US}, name=sectionName, data=Contact us, type=text, options=[], optionsMap={}}, downloadFiles={attributes={}, name=downloadFiles, data=, type=selection_break, options=[], optionsMap={}, LinkTitle={attributes={language-id=en_US}, name=LinkTitle, data=Get in touch with our experts, type=text, options=[], optionsMap={}}, CTALink={attributes={language-id=en_US}, name=CTALink, data=https://www.avl.com/web/guest/registration-cta?articleId=30288626&groupId=10138, type=text, options=[], optionsMap={}}, DownloadFile={attributes={language-id=en_US}, name=DownloadFile, data=, type=document_library, options=[], optionsMap={}}}}}
false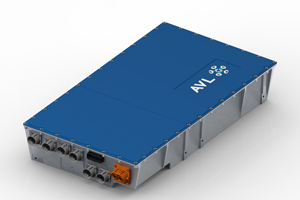 The power to move
AVL Fuel Cell DC/DC Converters
A modular platform for both passenger cars and heavy-duty commercial applications
As the electrified powertrain becomes increasingly omnipresent, innovation is happening both in the development of new power sources and their auxiliary systems. With our DC/DC converters, we offer a comprehensive solution for your vehicle portfolio, addressing the needs of passenger cars and heavy-duty vehicles.

A Modular Approach to Power

Our platform supports applications in both 400 V and 800 V powertrains. It steps up power from sources in the 90 to 360 kW range with an integrated auxiliary power supply, according to your requirements.

Delivering a continuous current of 650 A in a modular and scalable format, it is built on a master and slave configuration that supports a broad array of applications. From prototypes and demonstrator cars, to series production for passenger cars and heavy-duty trucks, it is suited to a wide range of use cases.
Advanced Technology, High Performance

Our DC/DC converter platform uses SiC (silicon carbide) semiconductor technology to improve system efficiency. With its integrated relay and power supply for auxiliaries, we reduce the number of components you need by providing everything in a single housing.

By designing the system with a modular approach, we have created a platform that avoids over capacity and redundancy in the case of failure. As an option, an inverter for the compressor can be integrated into the design. Our DC/DC converters also have a freeze start capability, and offer fuel cell excitation and monitoring.
Realizing the Power of the Fuel Cell

The viability of the fuel cell in practical applications is increasing continuously, and with innovations such as our DC/DC platform, it becomes a much more feasible. By developing systems in terms of the entire vehicle, rather than just the individual components, we are making a clean, electrified future a reality. We pride ourselves in making the goals of our customers achievable, even in the most uncertain times.
​​​​​​​
---