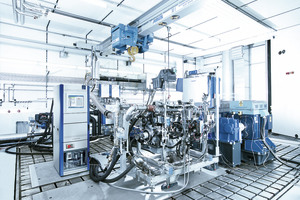 Testing Focus
Emission Certification
Emission Regulation is moving forward. Euro 6 has arrived in Europe, 40CFR1065 and 40CFR1066 in the US as well as the new Worldwide Light Duty Test Procedure has been published as Global technical regulation. And more challenges to come for the different applications. Measuring hybrid powertrains with their complexity, new measurement methods, changed procedures and real driving emissions are just a few examples.
Todas las soluciones
---
El enfoque AVL
AVL provides comprehensive engine and vehicle testing solutions to address the present and future requirements for emission certification for different engine applications found throughout the world. Changes in regulation's requirements over time have pushed conformity on a systems level. Therefore these solutions have been optimized to fulfill a specific set of certification tasks and regulations while still offering necessary flexibility for R&D purposes. Thanks to our long experience in engine and vehicle certifications in house and at numerous regulatory bodies.
---
Ventajas
Comprehensive solutions containing necessary equipment to fulfill the given certification task
Available for numerous different applications
Using our superior devices provide required test efficiency and overall system's performance
Optimizations on system level grant excellent reproducibility and repeatability even at lowest emission levels
Fulfilling almost all presently known emission regulations worldwide
Based on long experience in engine and vehicle certifications
Tested and proven at numerous certification agencies throughout the world
---