{attributes={}, name=downloadList, data=, type=selection_break, options=[], optionsMap={}, mainTitle={attributes={language-id=en_US}, name=mainTitle, data=Discover more, type=text, options=[], optionsMap={}}, sectionList={attributes={}, name=sectionList, data=, type=selection_break, options=[], optionsMap={}, sectionIcon={attributes={language-id=en_US}, name=sectionIcon, data=newsletter, type=list, options=[], optionsMap={newsletter=Newsletter, download=Download, software=Software, white-paper=White Paper, webinar=Webinar}}, sectionName={attributes={language-id=en_US}, name=sectionName, data=Contact us, type=text, options=[], optionsMap={}}, downloadFiles={attributes={}, name=downloadFiles, data=, type=selection_break, options=[], optionsMap={}, LinkTitle={attributes={language-id=en_US}, name=LinkTitle, data=Get in touch with our experts, type=text, options=[], optionsMap={}}, CTALink={attributes={language-id=en_US}, name=CTALink, data=https://www.avl.com/registration-cta?articleId=20248655&groupId=10138, type=text, options=[], optionsMap={}}, DownloadFile={attributes={language-id=en_US}, name=DownloadFile, data=, type=document_library, options=[], optionsMap={}}}}}
false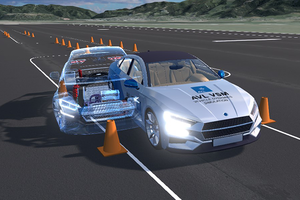 Attribute-driven vehicle development
Vehicle Dynamics and Chassis Controls Simulation
Using virtual prototypes to develop driving characteristics
In vehicle development, engineering specific driving characteristics such as handling, steering feel, ride comfort and lap time can be a complex and intensive process. In many cases, getting the balance of these factors right in order to create desired synergies requires the use of expensive prototypes.

At AVL, we are pioneering the use of virtual vehicle prototypes to speed up this process, reduce time-to-market and development loops, and promote a right-first-time methodology. But the benefits of virtual prototypes go far beyond driveability engineering.

Product Optimization with AVL VSM

At AVL, our VSM (Vehicle Simulation Model) virtual prototypes support suspension optimization and chassis component development. Furthermore, they can deliver additional value by enabling you to virtually optimize your chassis control systems – such as torque vectoring, active suspension or rear-wheel steering.

Using this approach to solve the conflict of balancing vehicle dynamics and efficiency to create class-leading products allows you to gain a strong market position. More than this, however, this tool allows you to meet your customers' expectations of your brand through driveability and performance.
Vehicle Brand Characteristics

Automotive brands are known not just for their names and logos, but also for how their vehicles feel to drive. It is vital, therefore, that your new vehicles share consistent behaviour characteristics with the others in your range.

Thanks to our vehicle benchmarking activities, we can precisely define the traits that differentiate the driving characteristics of vehicles from different brands. This enables you to ensure brand consistency, thanks to virtual prototyping, of your future products.

Virtual testing in this way leads to best-in-class results with reduced development costs and accelerated production time. As vehicle complexity increases thanks to emissions legislation and the electrification of the powertrain, being able to gain confidence in your development process can be invaluable.
---
---