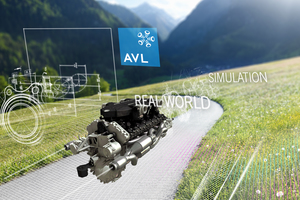 Increasing Demand of Simulation
Simulation
The challenge of reducing time and costs along the product development cycle causes a growing demand to replace physical prototypes with virtual prototypes applying frontloading. Engineers are facing a great number of challenging development and simulation tasks which necessitate more than just 'good software'.
---
AVL Approach
AVL's simulation software development is based on the unique environment available from AVL: powertrain engineering, instrumentation and test systems and advanced simulation technologies are the three pillars of the company, and provide a huge reservoir of synergies.
AVL's unique simulation power is the combination and integration of AVL software tools, 3rd party tools, testing and analysis methods with seamless simulation workflows which guide the user along the way to practical solutions.
---
Benefits at a Glance
High-fidelity system simulation models

Seamless simulation workflows

Powertrain engineering inside

Close link to testing

Simulation support worldwide
---