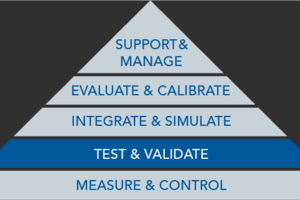 AVL Test Systems - Innovative Solutions for the Entire Powertrain
With decades of experience, AVL provides a wide range of solutions for developing and testing modern powertrain systems, from testbeds for optimizing internal combustion engines to test systems for all components in an electrified powertrain to roller testbeds for full vehicle development and testing.
---
Benefits at a Glance
Great breadth of experience from more than 4,000 test system installations
High precision of measurement and reproducible measurements results
Consistency between AVL test systems
Easy expansion of existing testbed systems for developing hybrid powertrains as upgrades
Worldwide training by AVL personnel in local language
Global service and support
Integrated Open Development Platform leading to consistent results in development
XiL Integration ensures highest testing flexibility
---
Solutions
AVL is the only company in the world to combine expertise in powertrain design with competence in state-of-the-art measurement and testing technology.
Many instruments and test systems are already based on the AVL Open Development Platform, which considerably boosts the efficiency of the testing process. Using numerous shared software and hardware technologies, AVL test systems deliver consistent, comparable results that significantly help lower development times and costs.
This makes them an ideal, integrated tool chain for developing efficient and environmentally friendly powertrains.
---
Task
The increasing complexity of modern powertrains is placing greater demands on the instrumentation and test systems used during development and testing.
At the same time, more customers wish to perform development activities at the earliest possible stage.
To ensure this, when testing individual components, full systems or even entire vehicles, AVL test systems must precisely emulate reality.
Due to the interaction of several active components in the vehicle, electrified powertrains for hybrid vehicles are becoming particularly complex.
The challenge for developers today is to put all components (internal combustion engine, e-motor, battery, inverter, gears and driving modes) together into one overall harmonious system. From testing an HV battery in an emulated vehicle environment to testing a full system or an entire vehicle with an electrified powertrain, AVL offers all the testing systems required to conduct such testing.
Consistency between all the different systems must be guaranteed to keep data acquisition and management as simple and efficient as possible over all test runs.
Therefore, all AVL test systems use a common measurement and parameter database.
---
Portfolio
Test systems for internal combustion engines and for components
The range spans from research on single-cylinder testbeds to development of the complete combustion engine on designated testbed systems. Systems with virtual engines for model-based development complete the portfolio.
E-motor, battery and inverter testbeds
AVL offers testing systems for all components in the electrified powertrain. These are used for testing individual components (e.g. in a virtual vehicle environment) as well as full systems and entire vehicles.
Powertrain and roller testbeds
The application range of these testbeds is constantly expanding: Alongside endurance, strength, emissions, acoustic and EMC testing, they are increasingly used in drivingmaneuver- based tests and for optimizing electrified powertrains.
End-of-line testing systems
AVL end-of-line testing solutions which integrate perfectly into the production process cover aII functionality verification procedures from subsystems on the assembly line to hot and cold tests to quality audit tests.
---