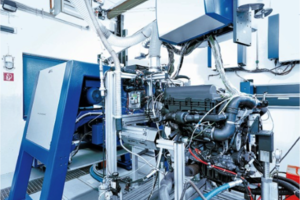 Over 4000 installations globally and more than 40 years' experience
Engine
The heart of modern powertrains was and is the combustion engine. Starting at the drawing board each engine undergoes a thorough development cycle before series production can begin. Each engine placed in today's vehicles, no matter if used on road, water or air or used a power-provider for machinery need to fulfill modern standards in emissions and comply to expectations of end users in terms of purchasing cost, performance and cost of ownership.
---
This leads to a very specific population of test systems for the
Development
Emission Certification and
Production
of combustion engines.
Viewing the complete development cycle of a vehicle or machinery, development tools used before the prototype phase (e.g. simulation) and systems used for system integration (e.g: Vehicle testing) requires a consistency of data and information for the engineers throughout all those development environments – This is a core philosophy the testing tools for engines blend in.
---
AVL Approach
The unique combination of willingness to innovation and decades of experience in creating development and testing solutions leads to a system portfolio which will be always one step ahead of the state of the art. The AVL in-house partnership with Powertrain Engineering is a constant drive for further enhancing AVL's testing systems and integrated methodology know how.
---
Benefits at a Glance
Great breadth of experience resulting from more than 4000 test system installations
Consistency between AVL test systems via the integrated open development platform
Easy expansion of existing testbed applications e.g. hybridization upgrade
Uniform development environment from lab to rig to road
High precision of measurement and reproducible measurement results
Precise Steady State Testing up to high dynamic Test Profile Execution
---