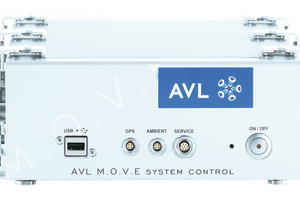 AVL M.O.V.E System Control
The AVL M.O.V.E System Control is the central unit for controlling measurement devices, automatic test execution, data acquisition process, calculation and visualization.
---
AVL Approach
The AVL M.O.V.E System Control system is used as a central data acquisition device. It offers the user an intuitive and graphical user interface with step-by-step guidance through the relevant legislative testing procedures.
---
Benefits at a Glance
Easy and flexible device integration
Recording and time alignment of data from various different devices
Exact test execution according to legislative requirements
Calculation and display of the measure values
---
Market Requirements
Current In-Vehicle measurement installations consist of a multitude of different measuring devices. The devices are not connected to a central data acquisition system and the measurement cannot be automated comprehensively.
---
Technical Data
Device handling, data acquisition and calculation
Product

SystemControl

Dimensions

241 x 89 x 350 [mm]

Temperature range

-20°C to +60°C

Power supply

9 to 36 VDC

incl. puffer function for bridging short-term voltage drops

Power consumtion

50W

CPU

CoreDuo L2400

Clock

1.66GHz

RAM

2GB

MEMORY

32GB SSD

USB 2.0

3

RS232

1

VGA

1

CAN

2

LAN [100MBit/s]

5 x 100MBit/s

I/O

Optional as extension :
3x NiCrNi TC

1x PT100

3x Analog +/- 10V (differential, galvanically not separated)

Ambient
temperature

- 40 to +80°C

Ambient
humidity

0 up to 100% R.H.


Ambient pressure

0.5 to 1.5 bar abs.


GPS

WAAS compatible

Position: <15 Meter
---
Key Features
The System Control software monitors and stores the data of all connected in-vehicle devices and sensors within a single file. Additionally, it features user-guided test sequences (pre, main, post-test) to make the operation as easy as possible and to prevent invalid or void test runs. For linearization purposes, a gas divider "add-on" is optionally available.
---