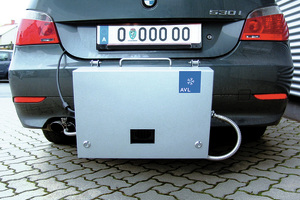 AVL OTR On-The-Road Opacimeter
The AVL OTR Opacimeter is a pressure-filled and compact partial-flow Opacimeter for continuous measurement of exhaust gas opacity on board a vehicle.
---
AVL Approach
The OTR Opacimeter is mounted with a special box close to the open tail pipe and draws its power from the cigarette lighter via a 12V/24V voltage converter. The software runs on a standard notebook PC and makes it easy to control the instrument, displays the online data and supports data post-processing.
---
Benefits at a Glance
Easy installation
Built-in calibration (linearity check)
Easy handling through small dimensions and low weight
Low power demand (can draw its power from cigarette lighter)
Easy control and data display via standard notebook PC
---
Technical Data
Easy installation and compact dimensions
The OTR Opacimeter is characterized by its compact dimensions and low power demand. The mounting box, which houses the measurement chamber, can be installed very easily on a trailer hitch.
Measurement value output
Opacity N [%] or
Absorption k [m-1]
Measurement range
N = 0 ... 100 % or
k = 0 ... 99,99 m-1
Resolution
0.1 % Opacity or
0.01 m-1 Absorption
Additional Output
USB – Analog Converter:
Two user-defined channels (e.g. 0...+5 V = 0... 100% Opacity)
Effective length
(optical path length of the measurement chamber in the sensor unit)
0.215 m +/- 0.002 m
Operating conditions

+5 ... +45°C
Adhering to measurement accuracy
Max. 90% relative humidity, non-condensing

Power supply
24V DC (via 12 V/24 V converter)
Power consumption

Approx. 60W (with heating)

Mechanical dimensions

Sensor unit: 395 x 285 x 136 mm
(W x H x D)
Mounting box: 500 x 340 x 250 mm
(W x H x D)

Weight
Sensor unit: approx. 3.5 kg
Sensor unit and mounting box: approx. 12.5 kg
---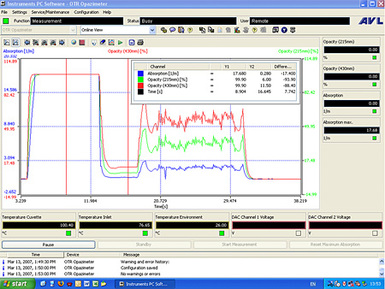 Measuring Principle
Pressure filled, partial flow Opacimeter
The AVL OTR Opacimeter measures the opacity of contaminated air in particular of diesel exhaust emissions. The measuring chamber with a non-reflecting surface is pressure filled with exhaust gas. The opacity of the exhaust gas is determined based on the loss of light intensity between a light source and a receiver. The specific absorption of the exhaust gas is calculated based on the opacity. The calculation is based on the Beer-Lambert law.
---