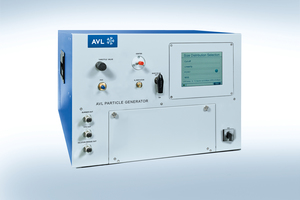 AVL Particle Generator
The AVL Particle Generator (APG) is the solution for on-site quality checks of advanced particle measurement devices.
---
AVL Approach
The AVL Particle Generator (APG) is a stand-alone device that generates a highly stable and repeatable combustion aerosol.
The intelligent design of the AVL Particle Generator, with three sample outlets, permits smooth installation and versatile utilization in a variety of different applications:
On-site quality checks of particle counting devices:

PCRF (particle concentration reduction factor) check
Particle number counter linearity check
Particle number counter cut-off check

Relative comparison measurements between two different particle measurement devices, e.g. AVL MSS
---
Benefits at a Glance
Generation of pre-conditioned combustion aerosol
Wide range of applications due to integrated dilution stages providing scalable concentrations
Pre-defined operating points for straightforward on-site quality checks of particle counting devices and particle measurement devices
Utilization as stand-alone device
Integrated touch-screen for simplified operation
Low total cost of ownership

---
Technical Data
Technical Details AVL Particle Generator
Output
Combustion soot particles
Particle size range
10-100 nm
Concentration range
Up to 1x107 particle/cm3
Dilution Ranges
- Dilution rate burner: up to 4 (adjustable)
- Dilution rate stage 1: up to 20 (adjustable)
- Dilution rate stage 2: 4 (fixed)
- Dilution rate stage 3: 4 and higher (adjustable)
Sample Outlets
- Burner out (undiluted)
- VPR out (after stage 2)
- Dilution bridge out (after stage 3)
Temperatures
Up to 400 °C (1st dilution and evaporation tube)
Output flow
Up to 15 l/min (thermally pretreated)
Fuel gas
Propane (99.9%)
Dilution air
Filtered compressed air (up to 40 l/min depending on the dilution, 1 bar gage pressure)
Quench gas and mixing gas
Nitrogen (99.9%)
Flow control
High precision mass flow controllers
Power supply
90…240 V AC, 50/60Hz, 450 W
Dimensions (WxHxD)
550 x 320x 440 mm
Weight
< 30 Kg
Touch-screen
5.7" 640x480
---
Measuring Principle
The AVL Particle Generator consists of three parts: the particle generating burner, the volatile particle remover (VPR) and the dilution bridge stage (DBS). The burner provides aerosols with well-defined particles generated by combustion of propane. The VPR thermally pre-treats and dilutes the generated particles to the desired concentrations. In the pre-treatment process, the particles are stabilized and volatile particles are reduced. A further dilution stage (DBS) with a dilution bridge decreases the concentration to very low levels.
---