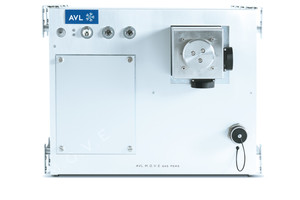 AVL M.O.V.E. GAS PEMS Portable Exhaust Gas Analyzer
A compact Portable Emission Measurement System (PEMS) for measuring the THC, NO/NO2, CO/CO2 and O2 concentrations within the exhaust gas of diesel and gasoline vehicles.
---
AVL Approach
The AVL GAS PEMS features a robust design, high accuracy and wide operating temperature range. The device is controlled via the AVL M.O.V.E System Control, which is the central data logger, calculates the online mass emissions and provides interfaces to access e. g. ECU/ CAN data and additional sensors. The AVL M.O.V.E. GAS PEMS is especially designed and optimized in weight and dimension for mounting in trucks and off-road vehicles.
---
Benefits at a Glance
Internal temperature conditioning ensures high measurement accuracy and low drift even at changing and extreme ambient conditions between -30°C and +45°C
High measurement accuracy due to the usage of approved test cell analyzers optimized for mobile applications
A dedicated heating circuit protects the device during start-up at low temperatures
Effective internal damping measures and external damping options allow the usage in harsh testing environments
Low maintenance effort and easy access to all consumables
---
Technical Data
Wide operating temperature range and robust design
Specially designed for mobile operation, this internal temperature conditioning system ensures reliable operation over a wide operating temperature range of -30 °C to + 45 °C without any additional external heating or cooling device. For higher temperatures it is possible to connect an external cooling device or a hose to the temperature conditioned passenger compartment. Additionally, all analyzers are mounted inside temperature-controlled enclosures to ensure high measurement accuracy even at changing ambient conditions.
The robust design of the instrument additionally supports these attributes. All analyzers are mounted on vibration dampers. External damping options like a mounting frame with vibration dampers and a rugged case (mandatory for testing non road machinery) provide additional protection and ensure safe mounting.
A dedicated heating circuit protects critical electronic parts and the analyzers when the AVL GAS PEMS is powered on at low temperatures by switching on the heaters/ fans at first. As soon as a certain temperature is reached, the other parts are supplied with power.
A special hibernate mode with reduced power demand makes it possible to keep the internal temperature overnight at a certain value for minimizing the warm-up time in the morning. By switching the AVL GAS PEMS to hibernate mode, an automated start-up at freely definable times via a timer is also possible.
The device is operated with 24V DC, either by using a battery pack or a voltage converter.
A service door makes the access to consumables (e.g. filters) very easy. Optimized components extend the service intervals and reduce the maintenance effort.
Control of the GAS PEMS is done with the AVL M.O.V.E System Control device which calculates the online mass emissions and which provides interfaces to ECU/CAN data and additional sensors like a GPS receiver or an exhaust flow meter. The system control device is the central data logger for storing the different test data within one data file. For the direct exhaust flow measurement differential pressure based exhaust flow meter are available as an option. For data post processing and reporting according e. g. U.S. EPA HDIUT regulations AVL offers a powerful PEMS post-processing software based on AVL Concerto.
Operating temperature (ambient)

-10°C to 45°C/ -30°C to -10°C with optionally available insulating blanket.

Storage temperature

-40 to +70°C
(Oxygen sensor needs to be removed)

Dimensions

Approx. 19" (482,6mm) x 8 HU (356mm) x 540mm/ 670 mm with heated filter on the front (w*h*d)

Weight

Approx. 50kg

Warm-up time at 20°C ambient temp.

< 1hr

Power demand

22.5 to 27V DC, approx. 450W @ 20°C ambient temperature (with 2m sample line and after warm up)

Sample flow rate

< 3.5 l/min

Inputs/Outputs electrical

Heated line connectors (3 heating
circles with 2x PT100);
1x Ethernet (TCP/IP )
1x CAN (CAN bus monitoring)
8x Analog out, 4x Analog in
4x Digital out (DC-isolated), 5x digital in (DC-isolated)

Measurement Range

THC:
0 to 30,000 ppmC1

NO/ NO2:
0 to 5,000 ppm (NO)
0 to 2,500 ppm (NO2)

CO/ CO2:
0 to 5 vol% (CO), 0 to 20 vol% (CO2)

Accuracy

CO:
0 to 1,499 ppm: +-30 ppm abs.,
1,500 ppm to 49,999 ppm: +-2% rel.;

CO2:
0 – 9.99 vol.%: +- 0.1 vol.% abs., 10 - 20 vol.%: +-2% rel.

NO:
0 – 5,000 ppm: +-0.2% FS or +-2% rel.

NO2:
0 – 2,500 ppm: +-0.2% FS or +-2% rel.

THC:
0 to 249 ppmC1: +-5 ppmC1,
250 to 30,000 ppmC1: +-2% rel.

O2:
+-1 vol.% FS

Zero Drift

THC:
<1.5 ppmC1

NO/ NO2:
2ppm/8h

CO:
20ppm/8h

CO2:
0,1 vol%/8h

Linearity

Slope : 0,99 ≤ slope ≤1,01,

Intercept ≤0,5 %,

SEE: ≤1% of range

and R2: >= 0,999

Pneumatics Inputs/ Outputs

ZERO gas, SPAN gas,
Burner gas for HFID, sample gas IN,
exhaust and drainage OUT
---
Measuring Principle
The AVL Gas PEMS uses a heated FID Analyzer to measure the THC concentrations, which does not require any additional external air supply. Instead, cleaned ambient air is used as burner air. Other than the burner gas (He/H2 mixture), there are no other operating gases that need to be carried.

The NO/NO2 measurement is carried out with an UV analyzer, which can measure NO and NO2 simultaneously and directly without the need of a converter.

For the CO/CO2 measurement a NDIR analyzer is used which was especially optimized for high accuracy and resolution of the CO channel at low concentrations.

All analyzers are mounted inside temperature-controlled enclosures to ensure stable conditions and a high accuracy even at changing ambient conditions.
---