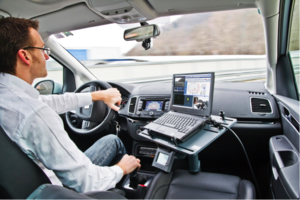 In-Vehicle R&D Measurements
Based on strong powertrain and vehicle development know-how, AVL has created a new in-vehicle measurement platform. AVL M.O.V.E is a mobile testing platform that provides real-life data and seamless methods for integrated performance, emissions and driveability calibration. It is a compact and robust solution for a wide range of in-vehicle measurement applications.
---
AVL Approach
AVL M.O.V.E offers tailored solutions for different applications based on an integrated concept controlled by a central unit (system control) that takes over the device handling and offers an intuitive and graphical user interface with step-by-step guidance though the relevant testing procedure. The evaluation and processing of testing data is done with the "AVL Concerto M.O.V.E" software.
The flexibility and high measurement accuracy of AVL M.O.V.E system are key elements of AVL's Real Life Testing platform, which bridges the gap between simulation and reality. This contributes to further improvements in development quality, process-efficiency and time to market.
---
Benefits at a Glance
Complete measurement solution for integrated consumption, emission and driveability calibration
Use of consistent development tools and methods
Improvement of simulation models
Avoidance of iterations due to an early recognition of causes and effects
Global service and powertrain engineering support
---
Task
Strong market demands for minimum emissions, optimized fuel consumption as well as maximum driving fun within complex system environments all require an increasing number of vehicle tests.
Contemporary, in-vehicle testing requires a wide variety of different measurement systems, posing a logistical challenge to the application engineer. The market demands integrated solutions with central device control, data handling and post-processing.
---