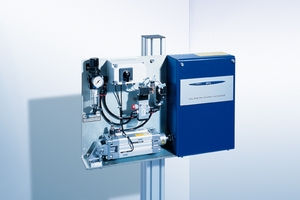 Pneumatically operated actuator for real clutches on the testbed
Digital Clutch Actuator AVL DCA 1000
The DCA 1000 is a simple clutch actuator that operates the test rig clutch or a clutch for gear changes in a manual transmission.
---
AVL Approach
The DCA 1000 is an inexpensive solution for operating a clutch for endurance testing for manual transmissions or for real idle tests on the testbed. It is designed for the operation of clutch for manual transmission or for testbed clutches.
The actuator is powered by compressed air and controlled by digital signals from the AVL control system (EMCON/ISAC). The DCA 1000 is suitable for cable-operated and hydraulic-operated clutches as well as for real clutch pedals.
---
Benefits at a Glance
Suitable for operation of pedal, Bowden cable or hydraulic master cylinder
Open loop control with adjustable speed, different for opening and closing
Adjustable actuation range
---
Technical Data
| | |
| --- | --- |
| Max. shift travel: | 30 mm |
| Shift force: | max. 1000 N (push or pull) |
| Shift speed: | Adjustable via throttle valves |
| Power supply compressed air: | 6 to 8 bar |
| Data interface: | Digital interface |
---