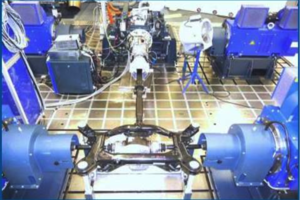 Test and Validate
Powertrain
More than 300 installations globally and 20 years' experience in development and design of transmission, drivetrain and powertrain testbeds as well as test facilities. Integrated simulation models bring real driving maneuvers from the drive test into laboratory environment.
---
The increasing complexity of modern powertrains is placing increasing demands on the Instrumentation and Test Systems. System integration in an early development stage is the key competence in the development of complex powertrains. Development engineers need Test Systems to test powertrains in a virtual environment without having a prototype vehicle. System Integration considers typical functional aspects from road tests. These Test Systems are the earliest chance to put all powertrain components (hardware and software) together into one overall harmonious system. For testing powertrains various system solutions are requested conducting the testing tasks with consistency between all the different Systems.
AVL Approach
With decades of experience, AVL provides a wide range of Solutions for developing and testing modern powertrain Systems for various powertrain configurations. AVL is the only Company in the world to combine competence in powertrain design with competence in state-of-the-art measurement and testing technology for Light-, Mid- & Heavy Duty vehicles.
Various system solutions are available for:
Powertrain Endurance
Powertrain Performance
Powertrain Verification
Noise Vibration and Harshness (NVH)
Emission Development including RDE
Drivability Assessment
Automated Calibration Transmission (ACT)
---
Benefits at a Glance
Great breadth of experience from more than 300 test system installations
Consistency between AVL test systems via integrated open development platform
Uniform development environment from lab to rig to road
High precision of measurement and reproducible measurement results
Automated Calibration Transmission and Drivability Assessment without the need for a prototype vehicle
---