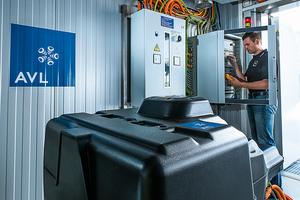 Systèmes de Test Batteries AVL
Évaluer le stockage électrochimique d'énergie
Le système de test batterie, qui peut être fourni soit en tant que banc d'essai indépendant soit dans un conteneur, permet l'évaluation et l'investigation de la durée de vie d'un système de stockage d'énergie électrochimique tel que ceux utilisés dans les véhicules hybrides et électriques.
---
The Challenge
Un banc d'essai batterie doit pouvoir réaliser des essais standards et spécifiques de cellules, modules et packs batterie.

Développer des batteries pour le stockage électrochimique d'énergie
Comment réduire la durée du développement et les coûts ?
Quels concepts de sécurité ont été implémentés ?
Applications bancs d'essais
Est-ce que le banc permet des essais standardisés et spécifiques ?
Permet-il également le test de super-capa, batteries plomb-acide, batteries à l'hydrure métallique de nickel, batteries Li-ion ?
---
The AVL Solution
Le système de test batteries AVL supporte un large panel d'applications – de la caractérisation selon les procédures de test standard (ISO/IEC, SAE) aux évaluations complexes spécifiques client, avec utilisation de la technologie AVL Virtual Proving Ground. Il permet l'examen de cellules, modules et packs et il est capable de caractériser des systèmes de stockage d'énergie variés pour différentes applications comme scooters, voitures de tourisme, utilitaires et poids lourds.
---
The Added Value
Banc d'essai batterie AVL clés en main avec concept de sécurité certifié CE, TÜV.
Support à la R&D ainsi qu'à la production, grâce à une conception multifonctionnelle
Banc d'essai en version conteneur pour la flexibilité d'installation
Effort d'installation et coûts d'utilisation réduits grâce à une disposition intelligente
Présence mondiale en phase commerciale et après-vente
Technologie Virtual proving ground basée sur AVL InMotion 4™
---
Details
Le système est composé de :

AVL E-STORAGE BTTM
AVL E-STORAGE BTTM est un testeur de batteries utilisé pour tous types de systèmes de stockage d'énergie dans des environnements de R&D et de production. Ses éléments principaux sont AVL LYNX 2TM, un système d'automatisation intuitif et flexible ainsi que des cycleurs précis et dynamiques. Un point central de sa philosophie est la configuration d'essais sans connaissances en programmation. Pour un enregistrement étendu de données, des interfaces AVL I/O sont supportées.

Conditionneurs de liquide de refroidissement
Un système de conditionnement de liquide de refroidissement avec modes de régulation en température et en débit est disponible afin d'assurer le thermo-management liquide d'un e-motor, de l'électronique de puissance ou d'une batterie. Le module de chauffage électrique, intégré dans le système, permet un préchauffage rapide du fluide. Tous les équipements sont préparés pour être entièrement intégrés dans le système d'automatisation.

Concept de sécurité AVL
Le concept basé sur EUCAR Hazard level assessment garantit des conditions d'utilisation en toute sécurité. Des systèmes de sécurité fiables sont mis en œuvre sur le banc d'essai, basé sur les résultats d'une analyse de risques détaillée.

L'approche Virtual proving ground basée sur AVL InMotion 4TM

La technologie Virtual Proving Ground AVL basée sur AVL InMotion 4TM permet l'intégration dans un environnement véhicule virtuel.
---
Technical Data
AVL E-STORAGE BTTM
Spécifications
Puissance : 160, 250 kW
Tension de sortie CC : 8–800 V
Courant de sortie CC : -600…+600 A
Temps de montée courant (10 %...+90 %): <0,4 ms (en conditions nominales 400 VDC. Non applicable en utilisation en parallèle.)
Précision de mesure
Tension ±0,1 % PE (Pleine Échelle), ±0,01 % PE disponible en option
Courant ±0,1 % PE, ±0,01 % PE en option
Systèmes 48V, 20 kW ou 32 kW pour applications basse tension
Réinjection réseau
Câbles de puissance et de mesure
Interface utilisateur intuitive
PC (avec clavier et souris), écran TFT
Interface avec le BMS/BCU
Interface avec les E/S système & conditionneur
Interface vers plateforme de simulation véhicule
Intégré dans un concept de sécurité EUCAR hazard level assessment
Conditionneurs
Puissance de refroidissement :
Puissance de refroidissement typique : 10 kW
Chambres climatiques
Rampes de refroidissement/chauffe typiques de 1…5 K/min
Designs standardisés ou custom
Plages de température typiques : -50 … 120 °C

Concept de sécurité AVL
Certifié selon EUCAR harzard levels
Sous-systèmes de sécurité modulaires
Sécurité de l'ensemble assurée par une analyse de risques exhaustive incluant la classification SIL
---