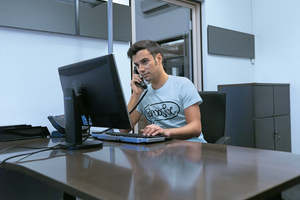 For those with an enthusiasm for network technology and hardware configuration
IT Technician m/f
"My work has many different facets, and I can attend many courses. Training at AVL is top!"
- Mareike, IT technician, 2nd year of apprenticeship
---
What's it all about?
Your work includes the adaptation of our hardware and the configuration of components in the network. You will plan entire networks taking account of the specific requirements of in-house users, and draw up innovative IT concepts for them. Other tasks include customer support and troubleshooting in networks and hardware components. You will work in a team and learn how projects are managed in a professional manner.
---
---
What you will learn
Assembly, mounting, testing, start-up and maintenance of ICT equipment and networks
Analysis, limitation and removal of bugs and errors
Overhauling and replacing of equipment and individual components of networks and the pertinent electronic data processing programs
Set-up and management of individual and network workstations
---
---
How long is the apprenticeship?
---