{attributes={}, name=downloadList, data=, type=selection_break, options=[], optionsMap={}, mainTitle={attributes={language-id=en_US}, name=mainTitle, data=Discover more, type=text, options=[], optionsMap={}}, sectionList={attributes={}, name=sectionList, data=, type=selection_break, options=[], optionsMap={}, sectionIcon={attributes={language-id=en_US}, name=sectionIcon, data=newsletter, type=list, options=[], optionsMap={newsletter=Newsletter, download=Download, software=Software, white-paper=White Paper, webinar=Webinar}}, sectionName={attributes={language-id=en_US}, name=sectionName, data=Contact us, type=text, options=[], optionsMap={}}, downloadFiles={attributes={}, name=downloadFiles, data=, type=selection_break, options=[], optionsMap={}, LinkTitle={attributes={language-id=en_US}, name=LinkTitle, data=Get in touch with our experts, type=text, options=[], optionsMap={}}, CTALink={attributes={language-id=en_US}, name=CTALink, data=https://www.avl.com/web/guest/registration-cta?articleId=30344820&groupId=10138, type=text, options=[], optionsMap={}}, DownloadFile={attributes={language-id=en_US}, name=DownloadFile, data=, type=document_library, options=[], optionsMap={}}}}}
false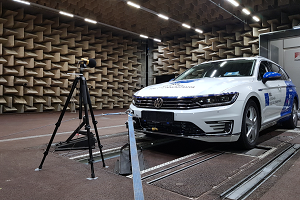 Be earlier, fast, cheaper and better in your process
Advanced NVH Development for Fuel Cell
NVH optimization to ensure a positive fuel cell driving experience
End-users expect a different driving experience from different powertrain configurations. This is true for fuel cell vehicles as much as it is for ICE vehicles. To ensure a positive driving experience, OEMs need to pay special attention to the Noise, Vibration and Harshness (NVH) profile of a vehicle. In fuel cell vehicles, in addition to all NVH aspects of the electric powertrain, close attention must be given to the NVH performance of the air intake supply and the exhaust system.

Optimizing for Driver Satisfaction
At AVL our development process for fuel cell applications also gives special consideration to NVH challenges. Our aim is to reduce noise emissions and we approach this task by optimizing the following aspects:
Flow noise and tonal noise elements of the air intake system
Flow noise excitation of the exhaust system
Component surface noise radiation, including the e-motor
Component mounting layout

Calling on many decades of automotive development experience, we are able to identify critical noise sources and design countermeasures early in development. Frontloading with simulation tools in this way reduces development loops and cuts down on the need for prototypes, thus saving time and cutting costs.

Simulation Frontloading

Using our NVH target-setting methodology we monitor NVH throughout the development process in order to achieve our stated goals. Our simulation approach allows us to examine and model three main criteria in detail:
Electromagnetic Simulation
Our advanced simulation tools allow us to simulate electromagnetic forces of potentially critical orders. This enables us to reduce their influence on other systems, as well as the driving experience.


Structural Simulation
Using our detailed and highly accurate simulation methodology we conduct force mapping in the frequency domain, force response analysis, and evaluate surface velocities. This allows us to optimize key structures to reduce noise and vibration.


Airborne Noise Simulation
Our NVH toolchain includes tools to enable the investigation of radiated sound power and airborne noise propagation.
Finally, we validate the results on our unique NVH testbed to ensure that targets are met and that goals are achieved. This ensures that your final product meets market expectation, meets your brand requirements, and delivers the quality driving experience your customers deserve.
---