{attributes={}, name=downloadList, data=, type=selection_break, options=[], optionsMap={}, mainTitle={attributes={language-id=en_US}, name=mainTitle, data=Discover more, type=text, options=[], optionsMap={}}, sectionList={attributes={}, name=sectionList, data=, type=selection_break, options=[], optionsMap={}, sectionIcon={attributes={language-id=en_US}, name=sectionIcon, data=newsletter, type=list, options=[], optionsMap={newsletter=Newsletter, download=Download, software=Software, white-paper=White Paper, webinar=Webinar}}, sectionName={attributes={language-id=en_US}, name=sectionName, data=Contact us, type=text, options=[], optionsMap={}}, downloadFiles={attributes={}, name=downloadFiles, data=, type=selection_break, options=[], optionsMap={}, LinkTitle={attributes={language-id=en_US}, name=LinkTitle, data=Get in touch with our experts, type=text, options=[], optionsMap={}}, CTALink={attributes={language-id=en_US}, name=CTALink, data=https://www.avl.com/web/guest/registration-cta?articleId=12975571&groupId=10138, type=text, options=[], optionsMap={}}, DownloadFile={attributes={language-id=en_US}, name=DownloadFile, data=, type=document_library, options=[], optionsMap={}}}}}
false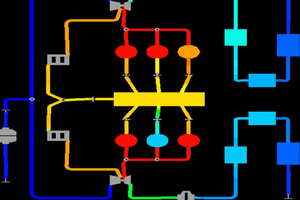 ---
Engine Performance
Can I re-use my collected 1D data from the concept phase for more detailed 3D modelling and vice versa?
Can I optimize the transient response considering mechanical inertia and gas dynamic effects (eg. turbolag)?
Exhaust Gas Aftertreatment
How closely do the simulation results correlate with real world driving emissions (RDE)?
Can I calculate individual components as well as the whole exhaust aftertreatment system?
Duct Acoustics
Can I predict orifice noise and design brandsound?
Can I calculate linear acoustic simulation without requiring additional engine data?

The Solution
AVL BOOST™ provides a comprehensive species transport for a high level of flexibility regarding fuel composition and working gas. This is accomplished with an internal solver for chemical reactions. Coupled with AVL FIRE™ users are able to accurately account for 3D flow and heat transfer effects in pipes, manifolds and combustion chamber. Identical modelling of physics and chemistry in aftertreatment systems empowers engineers, designers and developers to seamlessly switch between 1D and 3D models at any stage of the development phase. The flexible AVL BOOST™ 3D-approach to simulate linear acoustics delivers highly accurate solutions even in high frequency ranges.

The Added Value
High-level support by AVL engineers located worldwide
Software development and advancement driven by AVL powertrain expertise
Consistent 1D and 3D aftertreatment simulation in AVL BOOST

™

, AVL FIRE

™

and AVL CRUISE

™

Easy integration into third party environments
---