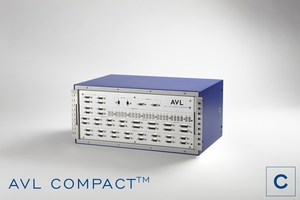 AVL COMPACT I/O Cubes
The AVL COMPACT I/O Cube is designed as a versatile I/O module for the test cell to allow data acquisition and control of a wide variety of I/O devices. The Cube provides various input and output channels. The channel assignment is software-configurable by the user. Depending on the required I/O configuration, there are different I/O cubes available, an all-in-one I/O cube or dedicated cubes for temperature or pressure channels. Additional cubes can be easily added to the system.
---
Benefits at a Glance
One software-configurable measurement cube for all signal types.
Output of demand values.
Modular design: additional cubes can be added.
High accuracy and resistance to noisy signals by use of front end technology.
---
Technical Data
| | |
| --- | --- |
| Acquisition rate | Selectable for each channel (1 Hz, 10 Hz, 100Hz) depending on the channel type |
| Universal Channel | 16 universal measurement channels for the measurement of voltages, currents, resistances and measuring bridges |
| Temperature Channel | 24 temperature measurement channels for measurement of thermo couples (types K, J, R, S, T, B, E and N) 8 temperature measurement channels for measurement of RTDs (Pt100, Pt1000) |
| Analog Channel | 8 analog outputs for voltages or currents (for demand value setting) |
| Digital Channel | 16 digital outputs (8 relay, 8 transistor outputs for digital or PWM) 16 digital inputs |
| Power Consumption | 62Watt typical and 208 Watt maximal |
| Dimensions (with x height x length) | 215 mm x 464 mm x 320 mm |
| Weight | 8,2 kg |
| Supply voltage | 24 V DC +-20% Reserve batterie protected |
| Degree of protection | IP 20 |
---
About Compact
AVL, the technology leader for automotive testing systems, provides comprehensive know-how, for basic testing requirements as well as the highest levels of testing. Easy to use, functional and good value, AVL COMPACT™ is the best COMPACT solution in the market.
Ready. Set. Go.

---