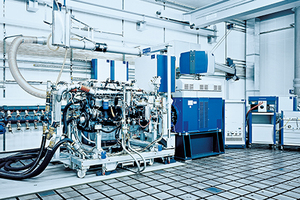 The heart of development
AVL Dynamometers
A range of solutions for every use case
The heart of any automotive development and testing infrastructure is the testbed. At AVL our dynamometers and load systems represent the culmination of seven decades of automotive know-how and excellence.

Robust, accurate and versatile, we have dynamometers for every type of application. With power ranges from 10 kW to 140,000 kW they are suited to everything from small off-road engines to large 2-stroke ship engines.

From the testing of combustion engines and their components to complete powertrain and e-drive testing, our testbed offering is comprehensive and dynamic. Ideal for powertrain testing tasks such as R&D, calibration, heavy-duty engine certification and EoL.
---
Big Demands, Bigger Performance
Testing and development practices must support OEMs in meeting global legislation and market demands for greater efficiency, performance and reduced emissions. Whatever the configuration or size of the powertrain – whether battery-electric, mild hybrid, fuel cell or otherwise – the dynamometer must underpin the very best development architecture.

This means enabling OEMs to keep pace with a rapidly evolving industry, enabling reactive as well as proactive product development that pushes innovation. All of our products put the user and their needs first. Designed for a long lifetime of reliable use, they are built with the future in mind.
---
Superior Technology
These kinds of superior dynamometers are just what AVL delivers, for a range of applications and market sectors. Our product portfolio includes Eddy Current Load Systems, AC Induction Load Systems, AC Permanent Magnet Synchronous Load Systems (PM Motors) and Hydraulic Load Systems.

By using Rotor Flux Vector Control Technology our dynamometers ensure highly dynamic and efficient performance. And with special models built for noise, vibration and harshness (NVH) demands and setups that feature original exhaust systems, we cover every need and eventuality.
---
Full Service on a Strong Foundation
AVL dynamometers are built on seven decades of know-how from a global network of experts. Compact, robust and with a maintenance-friendly design, there have been thousands of installations around the world.

Our simulation expertise supports complete mechanical setup that fits into your existing architecture with only minimal disruption. Furthermore, our global support network ensures that we're here to help whenever you need us.

Additionally, our AC Induction and PM Motors offer a range of benefits. Features include:
Extremely low total harmonic distortion (THD) at the supply side
An energy recovery system that saves energy costs in the testing field
Rotor Flux Vector Control Technology to ensure a high dynamic operation
Interfaces according to common standards in the automotive industry
---