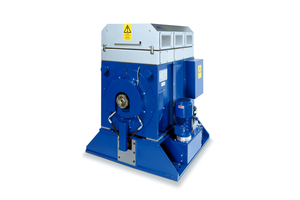 Load system with cradled AC induction dynamometers
AVL DynoExact for Engine Testing
The series includes a cradle-mounted AC-Dynamometer with a wide power range and an outstanding torque measuring accuracy and control stability. The torque measurement is performed by means of a bending beam.
---
AVL Approach
More than 1,500 systems have already been installed. The dynamometer was developed by AVL under real test cell conditions.
The cradled mounted design is optimized to offer the highest accuracy during the complete machine lifetime. Lowest possible temperature influence on torque measurement due to optimal positioning of the bending beam.
The calibration range can be tuned to the customer needs. Extremely low hysteresis on torque measurement due to hydrostatic cradled bearings. Existing dynos can be upgraded with new control systems.
---
Benefits at a Glance
Accurate high dynamic torque control
Very high torque accuracy with hydrostatic bearings option
Possibility of precise vehicle simulation in the test cell
Possibility of torque calibration check during operation
Possibility to recalibrate the dyno down to half of the dynamometer nominal torque to increase the torque measurement accuracy for small engines
Robust industrial design for operation under extreme ambient and environmental conditions
Easy installation and commissioning due to pre-commissioned components tested in a shop test
All APA dynamometers are equipped with hydrostatic bearings
Measurement accuracy +/- 0.1% FS
The APA drives can accurately simulate zero inertia conditions and drivetrain oscillations (7-12 Hz) by optional high dynamic torque control
---
Characteristics
The DynoExact is equipped with friction- and maintenance-free hydrostatic bearings. The built-in fast torque calculator is corrected with the highly accurate actual torque signal. Therefore, a fast and accurate torque signal is available for highly dynamic control loops.
---