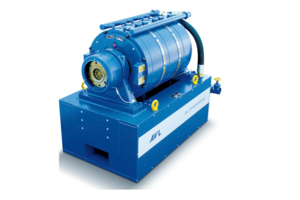 Load system with eddy current dynamometers
AVL DynoPerform for Engine Testing
Versatility and accuracy in a single solution
Suitable for a wide range of development and testing applications, AVL DynoPerform dry gap eddy dynamometers feature a drum rotor design. With excellent full-range torque and speed control stability, they are ideal for testing the function and endurance of almost every engine component.

From the development phase to series production of components such as bearings, fan belts, timing belts, and more, DynoPerform is a versatile testing platform. A cradled dyno, it enables easy calibration thanks to a lever and dead weights.

A Smart, Multi-Functional Solution

DynoPerform measures the reaction force of the brake torque with a strain gauge-based load cell. Measuring accuracy is influenced by the linearity of the load cell and the hysteresis of the dyno. A measuring amplifier is used to compensate for the error of the load cell.

Ensuring accuracy in this way makes this an ideal testbed solution for a wide range of components and systems. Catalytic converters, ECU systems, exhaust systems, filters, injection systems and even pistons, piston rings and glow or spark plugs can all be tested. Even fuels and lubricant oils can be tested on this most versatile of AVL solutions.
Cutting-Edge Technology for Maximum Reliability

Boasting excellent full-range torque and speed control stability, DynoPerform is a versatile tool for steady-state and transient applications. Designed for R&D tasks in engine and component development, an insulated-gate bipolar transistor (IGBT) full bridge power unit enables fast loading and unloading.

No air-gap adjustment is required. Furthermore, with high permissible coupling weights, this system is as flexible as it is robust. Backed up by AVL's global network of experts, we can help you to get the best results and the best return on investment.
---