{attributes={}, name=downloadList, data=, type=selection_break, options=[], optionsMap={}, mainTitle={attributes={language-id=en_US}, name=mainTitle, data=Discover more, type=text, options=[], optionsMap={}}, sectionList={attributes={}, name=sectionList, data=, type=selection_break, options=[], optionsMap={}, sectionIcon={attributes={language-id=en_US}, name=sectionIcon, data=newsletter, type=list, options=[], optionsMap={newsletter=Newsletter, download=Download, software=Software, white-paper=White Paper, webinar=Webinar}}, sectionName={attributes={language-id=en_US}, name=sectionName, data=Contact us, type=text, options=[], optionsMap={}}, downloadFiles={attributes={}, name=downloadFiles, data=, type=selection_break, options=[], optionsMap={}, LinkTitle={attributes={language-id=en_US}, name=LinkTitle, data=Get in touch with our experts, type=text, options=[], optionsMap={}}, CTALink={attributes={language-id=en_US}, name=CTALink, data=https://www.avl.com/registration-cta?articleId=26214792&groupId=10138, type=text, options=[], optionsMap={}}, DownloadFile={attributes={language-id=en_US}, name=DownloadFile, data=, type=document_library, options=[], optionsMap={}}}}}
false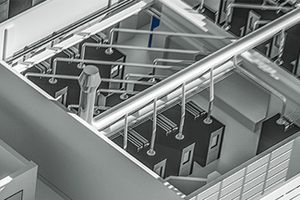 Extendable & customizable ​standard base configuration
AVL Lab Management™ for Battery
The software solution for successful battery test lab operation
As the electrification of the powertrain becomes increasingly prominent in the quest to reduce automotive emissions, greater demands are being placed on the battery. Optimizing this vital component is a very different activity to other propulsion systems, and is highly complex.

Therefore, battery labs need simple, highly automated testing solutions to reduce complexity and effort for test engineers. AVL Lab Management™ for Battery is such a solution.
Simplifying Battery Development

Advanced battery labs can test hundreds – if not thousands – of battery cells, modules or packs simultaneously under a range of climatic and temperature conditions. This results in huge amounts of data that must be managed, stored and analyzed. Additionally, testbed scheduling must be carried out to ensure optimal uptime and ROI.

Some battery testfields can handle an incredibly high number of units-under-test (UUTs) simultaneously. Furthermore, there is a constant demand for new test methods to be rapidly implemented as this number steadily increases. During peak periods project managers might have just 30 minutes to create, prepare and schedule a test order. With the possibility of many thousands of test orders executed each year and each member of the lab team monitoring a large volume UUTs at the same time, activity can become complex and intense.

This is where AVL Lab Management™ for Battery comes in.
A Single Solution for Many Challenges

AVL Lab Management™ for Battery supports the management of your UUTs and test equipment. Furthermore, it supports testfield management by offering a range of features, such as:
Scheduling of test orders
Management of maintenance and calibration intervals
Supports logistic processes
Supports automated data plausibility checking and processing
Data/results analysis provided by AVL CONCERTO™

This unique, easy-to-use software solution helps you achieve compliance with legal and industrial regulations. And as it is highly flexible, it can help you rapidly adapt to new testing requirements, adding a degree of futureproofing to you testfield. Highly scalable and with continuous traceability of each UUT and test data, it ensures robust and accurate results.

Implementing AVL Lab Management™ for Battery into your battery development toolchain will allow you to optimize the capacity of your testfield for maximum benefit. This results in accelerated testing and costs savings, and confidence in your workflow.
---
---