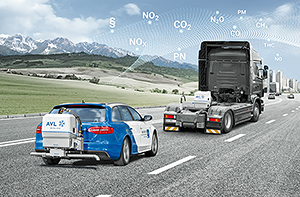 The global RDE testing solution
AVL M.O.V.E iS+
The in-vehicle measurement platform supporting all global Real Driving Emission (RDE) test requirements.
With global emission legislation and RDE requirements becoming stricter all the time, there is a growing need for a versatile, comprehensive PEMS (Portable Emission Measurement System) solution. OEMs need to react to a rapidly changing global legal framework and our M.O.V.E platform has become the industry standard to enable this agility.

The latest version of our market-leading Real Driving Emission testing solution, AVL M.O.V.E iS+, now caters for both light and heavy-duty vehicle testing. Designed to meet global testing standards, it is a single platform for every on-road application worldwide.

An evolution of the M.O.V.E portfolio, it includes state-of-the-art central data management, gaseous emission and exhaust flow measurement, particulate counting and data post processing. Supporting low-emission vehicle development with optional features such as, fuel consumption measurement, energy balance for evaluation modern hybrids and transient soot measurement for engine-out optimization, its versatile modularity enables it to be tailored to your specific needs.

Ease of use, flexibility of installation, and robustness and reliability of results make this the preferred solution for both RDE certification and research and development. AVL M.O.V.E iS+ redefines the industry standard.

---