{attributes={}, name=downloadList, data=, type=selection_break, options=[], optionsMap={}, mainTitle={attributes={language-id=en_US}, name=mainTitle, data=Discover more, type=text, options=[], optionsMap={}}, sectionList={attributes={}, name=sectionList, data=, type=selection_break, options=[], optionsMap={}, sectionIcon={attributes={language-id=en_US}, name=sectionIcon, data=newsletter, type=list, options=[], optionsMap={newsletter=Newsletter, download=Download, software=Software, white-paper=White Paper, webinar=Webinar}}, sectionName={attributes={language-id=en_US}, name=sectionName, data=Contact us, type=text, options=[], optionsMap={}}, downloadFiles={attributes={}, name=downloadFiles, data=, type=selection_break, options=[], optionsMap={}, LinkTitle={attributes={language-id=en_US}, name=LinkTitle, data=Get in touch with our experts!, type=text, options=[], optionsMap={}}, CTALink={attributes={language-id=en_US}, name=CTALink, data=https://www.avl.com/registration-cta?articleId=21267742&groupId=10138, type=text, options=[], optionsMap={}}, DownloadFile={attributes={language-id=en_US}, name=DownloadFile, data=, type=document_library, options=[], optionsMap={}}}}}
false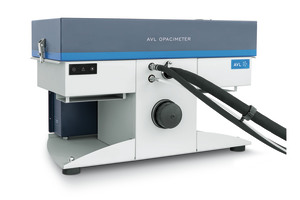 State-of-the-art emission measurement
AVL Opacimeter
Our dynamic partial-flow measuring instrument
Recent emissions legislation has tightened the requirements for transient test procedures. To pass future emissions limits, it will be necessary to monitor the engine's particulate emissions during transient operation even in the early stages of the R&D process. Therefore, you will need an instrument with a fast response time and high accuracy. Furthermore, measurements in front of an engine's after-treatment system where high exhaust pressures and temperatures are present must also be possible. For example, this could include measurements upstream of a diesel particulate filter (DPF).

An Innovative and Effective Solution

The AVL Opacimeter is a highly dynamic partial-flow measuring tool for the continuous measurement of exhaust gas opacity. Very effective in diesel engines, it can easily handle both stationary and transient engine operation. As such, it is perfectly suited for research and development purposes as well as production conformity tests.

This innovative tool measures the loss of light intensity between a light source and a receiver and makes it easy to calculate the opacity N [%] and the light absorption coefficient k [m-1]. In addition to its super-fast response time of 0.1 seconds, the opacimeter can also make measurements upstream and downstream of the DPF. This makes it a valuable tool in your testing environment.
Compliance with technical requirements and regulations

Our opacimeter complies with all legal requirements for emission certification testing. It meets standards including:
ECE R24
72/306/EEC, 77/537/EEC
ELR test cycle for

Euro III according 1999/96/EC
Euro IV and Euro V according 2005/55/EC and 2005/78/EC

GB 3847-2005
ISO 8178-9
ISO 11614
SAE J 1667
High Pressure Option

The growing trend towards developing engines with different exhaust aftertreatment systems requires special application components for particle measurement instruments. AVL Opacimeters include a high-pressure option, which extends the scope of application. It enables opacity measurements using standard equipment with exhaust gas pressure peaks up to 3,000 mbar (relative to ambient pressure) and exhaust gas temperatures up to 800 °C.

Highlights
High measurement dynamics for transient test runs
Pre-programmed parameters such as ELR and ECE R24
High measurement value resolution and signal stability thanks to the conditioning of all essential parts
Applicable for exhaust gas back pressures of up to +3,000 mbar (with high pressure option)
---
---