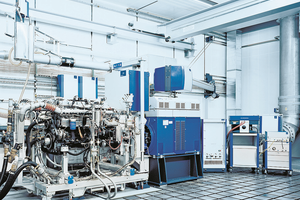 Test and Validate / Engine
Emission Certification
Emission Certification of combustion engines used with commercial vehicle powertrains like for trucks, buses, off-road stationary or mobile maschinery or as large engine version in ships, vessels or power generators will be verified on the exhaust emissions on an engine test bed.
Based on worldwide technical directives and regulations specific measurement principles, measurement- and testing procedures as well as data post processing are needed to consider with the engine test system.
The AVL engine emission certification test systems comply with all these requirements.
---
AVL Approach
Taking the AVL worldwide in-house powertrain engineering expertise as well as the comprehensive experience collected during many successfully conducted engine certification projects into account, fully compliant Engine Emission Certification test systems can be delivered by AVL.
Due to the most comprehensive measurement and testing technology portfolio AVL can provide all the needed supplies from our own product portfolio as
Load System
Testbed mechanics
Engine media conditioning systems (fuel, coolant, combustion air, …)
Measurement devices for combustion air-, fuel- and urea consumption
Measurement and data acquisition systems for temperatures, pressures, ambient conditions, …
Exhaust emission measurement devices for gaseous emissions, PM- and PN particle emissions
Test Bed- and emission test procedure automation HW/SW including data post-processing and reporting
---
Benefits at a Glance
Validated engine emission test systems based on AVLs in-house powertrain engineering projects with worldwide OEMs
One partner with long term experience in design, manufacturing and use of test systems for the certification purpose
Continuous further development of the needed system solutions by means of permanent monitoring of new upcoming legislative demands
---