{attributes={}, name=downloadList, data=, type=selection_break, options=[], optionsMap={}, mainTitle={attributes={language-id=en_US}, name=mainTitle, data=Discover more, type=text, options=[], optionsMap={}}, sectionList={attributes={}, name=sectionList, data=, type=selection_break, options=[], optionsMap={}, sectionIcon={attributes={language-id=en_US}, name=sectionIcon, data=newsletter, type=list, options=[], optionsMap={newsletter=Newsletter, download=Download, software=Software, white-paper=White Paper, webinar=Webinar}}, sectionName={attributes={language-id=en_US}, name=sectionName, data=Contact us, type=text, options=[], optionsMap={}}, downloadFiles={attributes={}, name=downloadFiles, data=, type=selection_break, options=[], optionsMap={}, LinkTitle={attributes={language-id=en_US}, name=LinkTitle, data=Get in touch with our experts, type=text, options=[], optionsMap={}}, CTALink={attributes={language-id=en_US}, name=CTALink, data=https://www.avl.com/registration-cta?articleId=18697629&groupId=10138, type=text, options=[], optionsMap={}}, DownloadFile={attributes={language-id=en_US}, name=DownloadFile, data=, type=document_library, options=[], optionsMap={}}}}}
false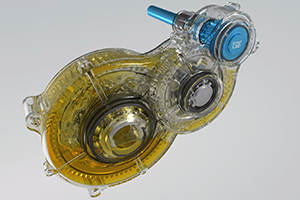 Download our Case Study with SCHAEFFLER Technologies
Shorter Development Cycles through Virtual Prototyping
Simulation-based development of functional oil distribution in e-axles
Thanks to the electrification of the powertrain, innovation in the automotive industry is happening faster than ever. OEMs and tier 1 suppliers who can bring electric vehicles (EVs) or hybrid vehicles (HEVs) and their components into production fastest are dominating the market.

Key technologies are emerging which are revolutionizing e-vehicle development. Electric axle systems, for example, with their compact and modular design, can be used in all vehicle segments. Getting complex systems to market quickly while maintaining high product maturity requires innovative techniques.

At AVL, we specialize in innovative techniques for powertrain development. When Schaeffler Technologies needed to understand and optimize oil distribution in their electric axle gearbox, they chose PreonLab, a Computational Fluid Dynamics (CFD) simulation tool from FIFTY2 Technology.
​​​​
Powerful Simulations, for Real Results

PreonLab uses a meshless approach to model creation, and features a fast solver to enable design-related investigations for a variety of applications. In this case, various lubrication concepts needed to be examined quickly and thoroughly.

Gearbox lubrication and cooling poses a major challenge for the developers of e-axle systems. Different lubrication concepts have a big impact on the cooling, weight and efficiency of the system. It's vital that the best concept is developed for the right applications, and that this decision is made as early in the development process as possible. For Schaeffler, only AVL and FIFTY2 were eligible as partners for this project.
A Vision of the Future

At AVL our simulation tools allow OEMs and suppliers to gain a vision of their future systems at concept stage, before any hardware has been built. Using the Lagrangian approach, PreonLab employs a Smoothed Particle Hydrodynamics (SPH) method which eliminates the need for meshing.

As a result, direct simulation of complex, moving structures as part of a fully defined system becomes possible, reducing post-processing times and offering significant cost and time benefits to the user. And with extensive display possibilities available in post processing, PreonLab is the perfect choice for Schaeffler's challenging requirements.
Powerful Virtual Prototyping

By simulating gearbox oil flow in a variety of different system concepts, Schaeffler is able to gain an in-depth understanding of different systems and create the optimal design. And by using our tools, they save time and money.

"The combined use of virtual prototyping using PreonLab and testing is an efficient approach in the development of lubrication and cooling concepts for e-axles," says Christian Dassler, Head of R&D, Product Line E-Axle Transmission, Schaeffler Technologies AG & Co. KG. "It efficiently supports us in achieving our goals in terms of functional design as early as possible."

Virtual prototyping and system analysis, such as that delivered by PreonLab, offers enormous potential for shortening development cycles using innovative simulation methods. Short turnaround times and modern post-processing enable the efficient and confident evaluation of behaviors, such as oil within the gearbox. This also convinced Schaeffler and therefore this experience should now be part of the general public.

Please use the link to download our customer success story with Schaeffler.
---