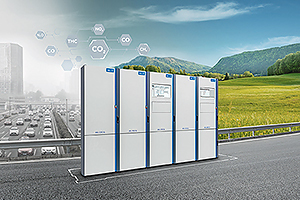 Fascination has a new dimension
AVL SlimLine™ Dilution Systems
The new benchmark for diluted emission testing
Development efforts are multiplying dramatically due to increasingly complex powertrain technologies and stricter legislation with new and longer test cycles. The latest WLTC test cycles, for example, are 30 % longer than their NEDC forebears.
Driven by RDE legislation, there is also a trend to pull road tests ahead in the development process or to reproduce RDE tests on testbeds to increase efficiency even further. This means the already crowded test infrastructure must host even more equipment. Both time and space are becoming restraining factors.

A Compact Solution
At AVL we have taken all of this into account with the design of the AVL SlimLine™ Dilution Systems. Not only are they designed to take up much less space than conventional system cabinets, but the slimline design also delivers on performance. They enable best-in-class testbeds, with a higher test performance and efficiency to save time and reduce costs.

The AVL SlimLine™ Dilution Systems feature:
The AVL AMA SL™ diluted exhaust emission measurement system
The AVL CVS SL™ dilution system for constant volume sampling
The AVL PSS SL™ for particulate sampling

Flexible Emission Testing
Built to use less energy and be greener in their operation, the Slimline Dilution Systems offer compliance and accuracy in a user-friendly package. The systems integrate easily into your existing test architecture, and will even fit in crowded test environments that were not originally made to house measurement equipment (e.g. engine or powertrain testbeds). By maximizing your frontloading capabilities, they will also significantly lower your cost-of-ownership.

Furthermore, our Slimline Dilution Systems are compliant to all legislative standards, such as EPA 40 CFR part 1066, EU 6 and China 6. Calibrated to ISO 17025 and approved by the Japan Quality Assurance Organization (JQA), they are as accurate as they are slim, and deliver unique efficiency.
---
---