{attributes={}, name=downloadList, data=, type=selection_break, options=[], optionsMap={}, mainTitle={attributes={language-id=en_US}, name=mainTitle, data=Discover more, type=text, options=[], optionsMap={}}, sectionList={attributes={}, name=sectionList, data=, type=selection_break, options=[], optionsMap={}, sectionIcon={attributes={language-id=en_US}, name=sectionIcon, data=newsletter, type=list, options=[], optionsMap={newsletter=Newsletter, download=Download, software=Software, white-paper=White Paper, webinar=Webinar}}, sectionName={attributes={language-id=en_US}, name=sectionName, data=Contact Us, type=text, options=[], optionsMap={}}, downloadFiles={attributes={}, name=downloadFiles, data=, type=selection_break, options=[], optionsMap={}, LinkTitle={attributes={language-id=en_US}, name=LinkTitle, data=Get in touch with our experts, type=text, options=[], optionsMap={}}, CTALink={attributes={language-id=en_US}, name=CTALink, data=https://www.avl.com/registration-cta?articleId=12732936&groupId=10138, type=text, options=[], optionsMap={}}, DownloadFile={attributes={language-id=en_US}, name=DownloadFile, data=, type=document_library, options=[], optionsMap={}}}}}
false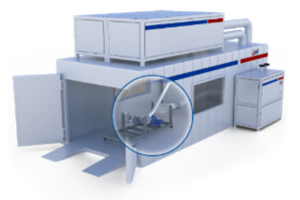 Optimized thermal efficiency
Thermal Management Testbeds
AVL provides dedicated testing equipment for components, systems and entire vehicles. This includes air conditioning systems, and our A/C system testbed is designed to conduct advanced tests for components central to the advanced topologies of modern electrified powertrains.

Our methods and products allow the testing of all thermal management systems, from condensers and evaporators to coolant conditioning units. Additional features include the emulation of powertrain components that are not physically present, as well as a climatic chamber for the simulation of a wide range of ambient conditions for the UUT. Individual air outlets for condenser and multiple evaporator, and chamber conditioning result in a testbed approach that is comprehensive and versatile.

The Versatility of AVL Thermal Management Testbeds

Such is the versatility of our thermal management testbeds, that they can be used for the holistic investigation of a wide range of different scenarios, factors and conditions. This means that they can be adapted to the unique needs of your specific development tasks.

Ideal for testing the air conditioning systems of vehicles with all powertrain architectures (ICE, BEV, PHEV, FC etc.), they can also be used for the testing of varying air conditioning system layouts. This might include, for example, one or two evaporator systems, heat pumps, battery cooling via direct evaporation or chiller, and more.

Other features of the AVL testbed include additional dynamic coolant conditioning units, to emulate heat rejection from components such as e-motors and batteries. Additionally, the innovative e-storage system emulates battery load as part of the A/C cycle.
---