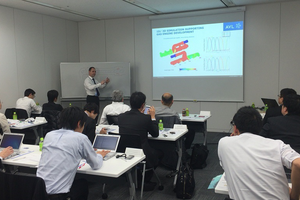 Duel Fuel Seminar in Osaka, Japan
AVL BOOST™ and AVL FIRE™ – cutting-edge simulation tools supporting the development of next generation gas and dual fuel engines.
Japanese engine developers joined AVL's seminar in Osaka, Japan, mid of January 2016 to discuss how simulation can be used to efficiently support the development of gas and dual fuel engines. The agenda covered the full range of the application spectrum: from passenger car to large engines, from spark ignited stoichiometric combustion concepts to lean burn diesel ignited gas engines and dual fuel engines with and without HPDI technology.
---