Go back
AVL International Simulation Conference 2019
October 22 - 24, 2019
MesseCongress, Graz, Austria
Share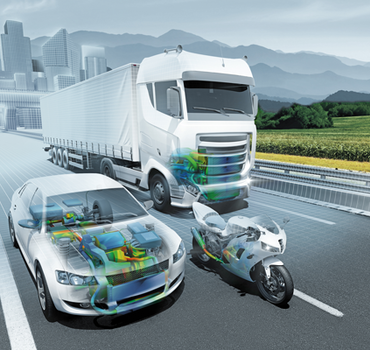 Share
October 22 - 24, 2019
MesseCongress, Graz, Austria
The leading event focusing on simulation trends
AVL International Simulation Conference 2019
---
Looking Back at the AVL International Simulation Conference 2019
The AVL International Simulation Conference 2019, which took place from October 22-24, was attended by ca. 400 participants from 30 countries. Technical experts and decision makers alike gathered in Graz, Austria to discuss the newest simulation trends and technological advancements in system and component development for powertrain and vehicle integration.
Forward-thinking keynote speeches, best practice presentations, workshops and an extensive exhibition dealt with key benefits and challenges alike of a synergetic use of simulation solutions throughout the entire development process.

The first two conference days saw more than 90 technical presentations from well-known OEMs, universities and Tiers. Users could present their own best practices with AVL's simulation solutions to their peers – in four parallel tracks: Electrified Powertrains, ICE based Powertrains/ Performance& Emissions, ICE based Powertrains/ Durability & NVH and Virtual Vehicle Development.
Roland Wanker, who in his role as new Vice President for Advanced Simulation Technologies hosted the event for the first time, about the conference: "What distinguishes this conference from others, is the very open communication and strong interaction between users and experts from the industry and AVL."
An important topic throughout the conference was the broadening of activities from the combustion engine to new propulsion systems. This year's keynote speeches covered a wide range of topics, from most recent developments in ADAS/AD (Prof. Steffen Mueller, Technical University of Berlin) via the hydrogen combustion engine (Dr. Alvaro Sousa, KEYOU) to the future of mobility (Dr. Angelika Sodian, Former MD of NIO UK). Dr. Tiejian Lin, Director of the R&D Institute of Yuchai China, completed the spectrum of keynote presentations from an OEM point of view. Top-level AVL speeches from the Powertrain Engineering and IODP divisions complemented the program and stimulated exciting discussions.
On the third conference day, AVL presented its new applications in a series of well-attended workshops, from engineers to engineers. An important aspect throughout the day was how to apply existing tools and solutions for new drive types.
Another conference highlight was the exhibition, in which visitors experienced the newest developments of AVL Advanced Simulation Technologies, including numerous Virtual Reality applications as well as highlights from AVL's Integrated and Open Development Platform.
Topic
The Graz conference will include a large number of different subject areas. These include the use of simulation techniques in system and component development for powertrains and vehicle integration.

Topics will include:
Electrification (HEV, BEV, FCEV) on System and Component Level for Battery, Fuel Cell, E-motor, Power Electronics
Energy Efficiency, Performance and Drivability
Vehicle Dynamics and Attribute Engineering
Real-driving Emissions (RDE)
Engine Combustion, Emissions and Exhaust Gas Aftertreatment
Vehicle Thermal Management and Component Thermal Analysis
Vehicle External and Internal Aerodynamics
Water Management, Water Wading and Splashing
Durability and NVH
Multiphysics System Simulation
Multiphase Flows
Model-Based Calibration
Virtual Functional Prototyping
Data-driven Simulation Solutions
Simulation on Testbed
Autonomous Driving (AD) and Advanced Driver Assistance Systems (ADAS)
---
Evening Program
Get to know experts from the field of simulation! We invite you to continue networking outside the conference program.
Welcome Reception:
October 21, 2019, 19:30
Kunsthauscafé Graz
Südtirolerplatz 2, 8020 Graz
http://kunsthauscafe.co.at/

Social Evening:
October 22, 2019, 19:00
Restaurant SCHLOSSBERG
Schloßberg 7, 8010 Graz
T: +43 316 84 00 00
http://schlossberggraz.at/restaurant/
---
Exhibition
During the breaks, visit the exhibition area to discover how simulation is shaping the future of modern propulsion systems.
---
Info Point
Conference Office @MCG:

Tuesday & Wednesday:
08:00 – 18:00

Thursday:
08:00 – 15:00
---
Hotel Reservation
AVL has blocked rooms at designated hotels and has made every effort to ensure the best possible room rate for you for this event:
---
Conference Fees
Regular Conference Fee

EUR 690,-

(+ 20% VAT)
University Faculty Members

EUR 250,-

(+ 20% VAT)

Speaker
free of charge
Exhibition Staff
free of charge
---
Sponsors
Silver Sponsors
Bronze Sponsors
---
Review


Approximately 400 participants from more than 20 countries gathered together for the AVL International Simulation Conference 2017 in Graz, Austria at the end of June to discuss and hear about current industry developments and innovations. The technical program included more than 80 interesting user presentations in the fields Structure Dynamics, Fluid Dynamics and System Simulation. Two days of this conference were dedicated to users presenting ways how they employ advanced simulation methods in the virtual and physical world along the powertrain development process. On the third day AVL provided insights into new applications and workflows as well as discussions in a series of short seminars.
Insightful keynote speeches from John Deere, Strategy Engineers, Know-Center, to name a few, rounded off the extensive range of lectures.
Another conference highlight was the exhibition consisting of a comprehensive AVL display and exhibitor stands. Besides the AVL simulation solutions, participants could experience the Integrated and Open Development Platform, wear VR glasses to watch a demonstration of acoustics simulation results and get a hands-on experience at the Virtual Testbed or the ADAS demonstrator.
---
Date
October 22 - 24, 2019
Location
MesseCongress, Graz, Austria