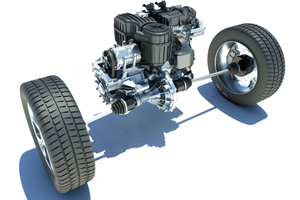 AVL e-Fusion
In the design of a modern modular drivetrain, a key question is how the increasing variety of electrified drive trains can be countered at the lowest possible cost. Designers are challenged to balance the conflict between module and component carry-over concepts and specific cost optimized solutions for drivetrain elements. The claim is that every powertrain concept has to be individually optimized for itself - from mild hybrids to pure electric driving - but that also the entire drivetrain family must achieve an optimum in terms of overall goal attainment for the platform.
For most development projects, the drivetrain components for engine, transmission and e-motor are ideveloped ndustry-wide and supplied by different manufacturers. This approach has the advantage of continued utilization of existing manufacturing facilities. The approved testing of these components, together with the warranty, can also be carried over. As a result, certain component interfaces remain the same, such as the standard gearbox and classical motor interfaces, e.g. between cylinder head and crankcase, exhaust manifolds etc.. Consequently, a non-optimal package is often the result when several of these components are only individually optimized without taking holistic approach.
Looking at new electrified systems the existing method is not changed, which has advantages in terms of the singular development and component optimization. On the basis of economies of scale in mass production, cost savings for e-motor, power electronics and batteries are expected. Nevertheless this cost saving is relatively small in comparison to non-electrified drivetrain solutions.
---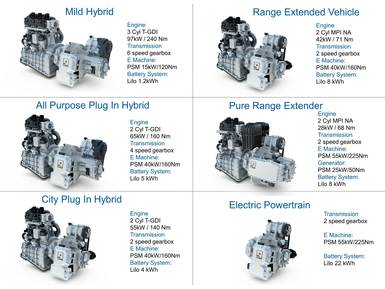 Details
The future challenge is the need for an extended approach to enable more significant cost reduction in order to support the sustainable marketability of high-volume applications.















The overarching goals of the cost-efficient AVL powertrain e-Fusion can be derived accordingly as follows:
Modular powertrain family including the relevant power-train architectures: conventional power train, mild hybrid, parallel plug-in hybrid, the range extender with a mechanical drive-through, pure serial hybrid range extender and the battery electric vehicle.
Same performance and fun to drive for all applications.
Significant reduction in fuel consumption for all applications.
Applicable for the vehicle categories A, B and C segments (entry-level model).
Unit cost reductions for the entire drive train between 10 and 20% in comparison with known solutions depending on the application.
Weight reduction by 10% and compact package dimensions.
In terms of performance and fuel consumption the target catalog of automotive vehicles must reflect customer expectations on one hand, but also meet legal regulations on the other. The customer expectations for electrified drivetrains in terms of driving performance and driveability (fun to drive) are identical - or even higher - compared to existing conventional systems. In terms of expected future constraints from CO2 legislation, 90gCO2/km for vehicles without plug-in capability and 50gCO2/km for vehicles with plug-in capability are the target values. The maximum vehicle speed for the "Pure Range Extender (Pure RE)" is reduced to a level of > 14 km/h and assessed to be acceptable for dedicated city vehicles. As all electric range (AER) for the mild-hybrid version, a reduced value up to 5km is defined, while the plug-in and the range extender variants offers AER of > 50km, which corresponds to the typical average daily driving behavior [2, 9]. The differences in the vehicle inertia classes result from the additional weight of the electrical components, and especially of the battery. Accordingly, the goals for the CEPT vehicle family are defined as follows:
Vehicle Targets

Mildhybrid

Parallel Plug-In

Pure RE

RE +drive through

Electrical Drive

ITW-class [kg]

1130

1250

1250

1250

1370

Max. Velocity combined
[km/h]:

>180

>180

>140

>180

>140

Max. Velocity pure ICE
[km/h]:

>180

>140

>120

>140

-

Accelaration 0-100km/h
[s]:

<10

<10

<10

<10

<10

CO2-Emissionen in
NEDC-cycle
[g/km]

<90

<50

<50

<50

-

Consumption in
NEDC-cycle
[l/100km]

<3.7

<2.1

<2.1

<2.1

-

Electrical range [km]

0

>50

>50

>50

>150
---