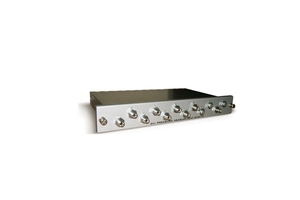 Pressure Measurement Snap-in
This snap-in unit provides exact acquisition of 12 independent pressure signals in the field of automotive engine and powertrain testing.
---
AVL Approach
The signals acquired by each pressure transducer are transferred in physical units to the AVL PUMA OpenTM automation system by means of a CANopen interface. The snap-in unit is designed for installation in the AVL Measurement Box.
The miniature CANopen pressure transducers are mounted in the 12-channel Pressure Measurement Snap-in. The snap-in unit can house transducers with relative or absolute pressure measurement ranges.
Typical applications are R&D and Emissions and Quality Assurance testbeds equipped with AVL´s Measurement Box.
---
Benefits at a Glance
Exact acquisition of dynamic pressure signals due to data acquisition rates of up to 200 Hz per channel
Real-time data synchronization with the AVL PUMA OpenTM testbed automation system
Automatic sensor detection (measuring range, serial number, type)
Zero offset adjustment directly in the pressure transducer controlled by AVL PUMA OpenTM
Vibration resistant for usage on engine pallets
Fast and convenient installation in the AVL Measurement Box with automatic connection to power supply and data bus for fast setup
---
Technical Data
| | |
| --- | --- |
| Total error: | +/- 0.15% F.S. / 0°C...+60°C, typ. |
| Repeatability: | +/- 0.05% F.S., typ. |
| Operating temperature: | 0°C to +60 °C |
| Media temperature: | -25°C to +100°C |
| Sampling rate: | 5 Hz to 200 Hz in steps |
| Total sampling rate per CAN-Line: | 5000 samples per second max. per CAN line |
| Data interface: | CANopen DS404 via AVL Measurement Box |
| Addressing: | Automatic position referred addressing by means of daisy chain during power-up |
| Number of transmitters: | 50 Nodes max. per CAN line (6 CANopen pressure measurement boxes) |
| Temperature compensation: | Yes |
| Linearization: | Yes |
| Digital low pass filter: | Yes |
| Pressure connection: | Outside thread M14x1,5 |
| Mounting mechanics: | Snap-in Unit (approx.19" / 1 HU) for the AVL Measurement Box |
| Degree of protection: | IP65 |
| Power supply: | 24 VDC via AVL Measurement Box |
| Vibration resistance: | IEC 60068-2-64 |
---