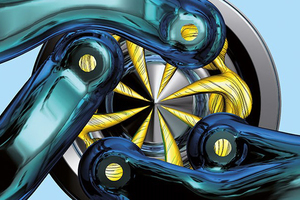 Combustion and Emissions Simulation
AVL BOOST™ and AVL FIRE™ are the industry's first choice when reliable results are needed for engine thermodynamics and combustion/emissions development. The intelligent integration of the two software tools facilitates solutions for complex tasks early in the development phase and provides unsurpassable accuracy during the detailed design phase.
---
AVL Approach
With AVL BOOST™ and AVL FIRE™ we deliver a solution dedicated to solving specific tasks related to IC Engine development, such as matching performance requirements, lowering fuel consumption, emissions and CO2 and optimizing the engines thermal management.
---
Benefits at a Glance
Combustion/emission solution with "AVL engineering inside"
Most powerful combination of numerical models, physics and chemistry for IC engine thermodynamics, fuel injection, combustion and emission simulation
Proven simulation methods

---
Fewer Experiments, more Creativity
The capabilities offered by AVL BOOST™ and AVL FIRE™ enable accurate simulation of all relevant physics and chemistry in internal combustion engines and engine components, allowing for the virtual testing of a large number of design possibilities while reducing the need for costly and time-consuming experiments.
---
1D/3D Coupled Solutions
For the highest accuracy and performance, AVL BOOST™ and AVL FIRE™ can be executed as co-simulations exchanging pressure, temperature and species concentrations at the interface boundaries. This makes it possible to consider 3D geometrical effects in an otherwise 1D Model and to immediately see the impact of design changes on the overall system performance. Common 1D/3D applications include intake and exhaust manifold development, optimization of exhaust gas return and combustion/emission prediction.
---