Automotive Technician – System Electronics m/f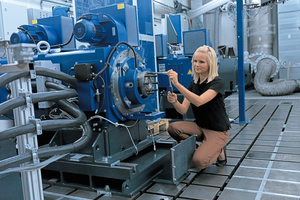 For those who think of highly complex safety systems and electronics when they think of cars
Automotive Technician – System Electronics m/f
"I had no idea how multi-faceted the work with cars and engines was!"
- Kevin, automotive technician, 2nd year of apprenticeship
---
What's it all about?
You will work in a team on the most varied vehicle and engine types, from simple passenger car engines to huge marine engines. State-of-the-art error diagnosis tools are used to analyze and define defects to enable their remedy. Your job includes work on prototype vehicles as well as assistance for engineers working on our test track.
---
What you will learn
Testing, dismantling, assembly, maintenance and repair of mechanical/electronic components, engines and power transmission devices installed in vehicles
Fundamentals of vehicle and system electronics
Fundamentals of mechanical, electric and electronic measurement and testing procedures and their analysis by means of computer-aided diagnostic tools
Safety regulations of the basic technical and legal automotive regulations, standards, safety and environmental standards
---
How long is the apprenticeship?
---