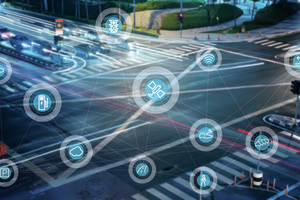 Securing the future of mobility
Automotive Cyber Security
Connected Vehicles
As electrification and system complexity increase in modern vehicles, the industry is increasingly incorporating connected technologies into its products. ​​​​​​​This leads to the potential for malicious cyber-attacks, and with the emergence of autonomous vehicles this raises questions about automotive safety and security.

​​​​​​​Just as the information technology industry goes to great lengths to protect itself, so too must today's auto industry. Autonomous vehicles are essentially computers in motion, and so the dangers that such attacks pose mean security is more important than ever.

​​​​​​​The industry therefore needs a reliable partner who can help OEMs and suppliers protect the data integrity of the vehicle, detect ongoing attacks, and react in safe way. This needs to be considered at all stages of the development process, and throughout the lifetime of the vehicle.

​​​​​​​A Best Practice Solution

​​​​​​​With more than seven decades of automotive development experience, AVL understands the benefit of a best practice strategy to address these challenges. This has enabled us to develop a holistic approach that includes Threat and Risk Analysis (TARA), functional and technical security concepts, as well as security testing for analysis and validation.
​​​​​​​
​​​​​​​Additional benefits include:
​​​​​​​Implementation of prevention, detection and reaction mechanisms in HW and SW
​​​​​​​The use of security-related test concepts for evidence collection
​​​​​​​Development of effective security methods through the entire product lifecycle

​​​​​​​Connected vehicle security and autonomous car safety will be major factors as this technology matures across the industry. AVL automotive safety expertise offers a solution to this challenge.

​​​​​​​With on and off-board security solutions that cover the complete vehicle ecosystem, from concept to full lifecycle, our holistic approach tailors the solutions to your specific needs. From the cloud to the road, we're your partner for secure connected vehicle development.
---
---