{attributes={}, name=downloadList, data=, type=selection_break, options=[], optionsMap={}, mainTitle={attributes={language-id=en_US}, name=mainTitle, data=Discover more, type=text, options=[], optionsMap={}}, sectionList={attributes={}, name=sectionList, data=, type=selection_break, options=[], optionsMap={}, sectionIcon={attributes={language-id=en_US}, name=sectionIcon, data=newsletter, type=list, options=[], optionsMap={newsletter=Newsletter, download=Download, software=Software, white-paper=White Paper, webinar=Webinar}}, sectionName={attributes={language-id=en_US}, name=sectionName, data=Contact us, type=text, options=[], optionsMap={}}, downloadFiles={attributes={}, name=downloadFiles, data=, type=selection_break, options=[], optionsMap={}, LinkTitle={attributes={language-id=en_US}, name=LinkTitle, data=Get in touch with our experts!, type=text, options=[], optionsMap={}}, CTALink={attributes={language-id=en_US}, name=CTALink, data=https://www.avl.com/web/guest/registration-cta?articleId=12973030&groupId=10138, type=text, options=[], optionsMap={}}, DownloadFile={attributes={language-id=en_US}, name=DownloadFile, data=, type=document_library, options=[], optionsMap={}}}}}
false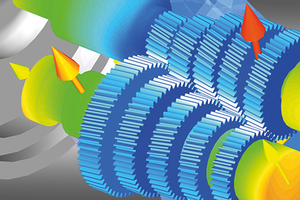 Durability and Acoustic Analysis
Simulation for Gears & Shafts
Gears and shafts make up the basic components of almost any powertrain. Their use is diverse and ranges from single gear stages (e.g. balancer shaft drives) up to entire gearboxes for conventional and HEV/EV powertrains.

AVL EXCITE™
OEMs and engine manufacturers worldwide rely on AVL EXCITE in their development process to improve product performance, reliability and safety. When it comes to developing gears and shafts, EXCITE offers different modeling levels for shafts – rigid or flexible, and gears – generic ones based on a 2D engagement line for cylindrical, bevel and hypoid gears as well as an advanced gear model for cylindrical gears. This enables you to accurately analyze their durability, for gears by evaluating face load factors, root bending stresses, and contact pressure distributions under dynamic loading conditions. By calculating friction in the gear tooth contact you can investigate in measures to improve the efficiency of each gear stage.

When considering all influencing component and system parameters – including tooth profiles, damping in the tooth contact and flexibility of shafts and gears – EXCITE is particularly helpful in analyzing gear specific noise phenomena, like gear whine, rattle or hammering.
AVL's CFD software FIRE™ M is used to calculate the drag-torque resulting from oil splashing.
---