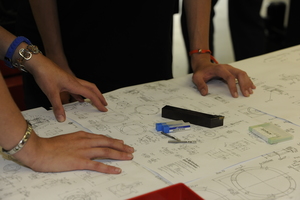 For those with pronounced technical and visual thinking
Draftsman/Draftswoman
"What I like best is the cultural diversity of the company and the many different projects in which I am involved and allowed to work autonomously."
- Patrick, draftsman, 3rd year of apprenticeship
---
What's it all about?
You will contribute your creativity and understanding of spatial and technical concepts in a project team and together with your colleagues you will develop various new concepts for the design of engine and drive components with the aim of making engines and vehicles more powerful, ecologically compatible and efficient. Tasks range from simple freehand sketches to technical design with CAx systems.
---
What you will learn
Basic principles of techniques of machining metals, plastics and other materials and fundamentals of the production of connections (detachable and permanent connections)
Making construction drawings conforming to standards of relevant components and assemblies in front view, plan view, side view, bottom view, rear view, isometric view and perspectives
Technical calculations
Preparation of specific documentation; project-oriented work on the basis of project and quality management knowledge
---
How long is the apprenticeship?
---