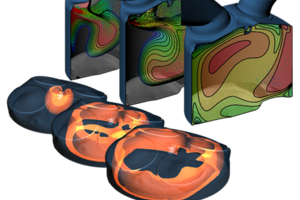 Analysis and Simulation/CAE
Simulation has become a key enabling factor in the development of highly competitive and advanced powertrain systems. CAE methods play a vital role in defining new powertrain concepts from hybrid to pure electric vehicles.
---
---
AVL Solution
CAE methods are applied from the concept definition until production release to support concept finding and optimization in the areas of emission, fuel consumption, durability, NVH and driveability.
Integrated approach of design, CAE and testing for verification
Standardized CAE methods for the whole powertrain development process
Integrated CAE application with AVL advanced software development
CAE methodologies for hybrid, range extender, and pure electric vehicles
Integrated data and process management with target value tracking

Standardization of the CAE process and clearly defined objectives in the simulation methodology support database driven benchmarking and target value setting.
This provides benchmarking of system and component competitiveness and performance. Ongoing correlation of critical system attributes from testbed measurements ensure a high level of confidence in the simulation results.
---
Benefits at a Glance
A large team of more than 150 CAE engineers offers a broad experience in full powertrain development across all application ranges. AVL offers tailored and optimized development programs with a high integration of design, CAE and testing methods. AVL provides leading simulation tools utilizing engineering and testing experience.
AVL CAE methodology library
Simulation results benchmark database for key system attributes
Leading simulation tools and methodologies in powertrain development
Full system development from concept definition to system validation:
Deliver validated systems to product development
Engineering support in powertrain development process:
Provide solutions and validate systems against defined objectives
Troubleshooting support with high problem solving competence:
Provide clear and precise change requests and recommendations
Simulation methodology development for state of the art product development processes:
Enable and enhance a simulation driven development process
CAE process development and simulation life cycle management consulting:
Provide strategic consulting for the development of a sustainable "simulation lifecycle management" process
---
References
AVL is working with the leading OEMs to advance powertrain systems. As key engineering supplier, AVL has executed a broad range of powertrain development programs with strong simulation support for our customers from concept development to production release.
Execution of more than 150 base engine programs covering all applications
Thermo-mechanical fatigue optimization for 120 cylinder heads and exhaust manifolds
Simulation results benchmark database for key system attributes
CAE methodology library (> 130 standard methods)
Energy storage and battery thermal and mechanical simulation
Integrated testing and simulation programs for optimizing fuel and energy efficiency
Simulation driven development process efficiency enhancement
Problem solving activities for all powertrain systems
---