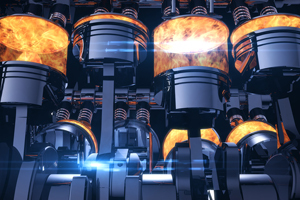 Extensive software and control expertise
Combustion Controls
AVL offers a variety of solutions for optimized engine control
As nations work to limit global warming and improve air quality in urban areas, emissions and OBD regulations for the automotive industry grow increasingly stringent. Emission compliance must be certified under real driving conditions (RDE) and fuel economy targets will have to be fulfilled by the manufacturer fleet.

For these reasons, engineering requirements such as fuel consumption, emissions reduction, total cost of ownership and productivity are driving most powertrain development activities today. Optimized combustion engine control is a key factor to meet these challenges.

AVL's Frontloading Approach

At AVL we use a model-based development approach during controls development. This allows us to start engineering activities earlier in the project. We utilize a virtual development environment to achieve high validation maturity early in the project cycle. This allows us to help you make the right decisions even before the first engine prototypes are available for testing. By adopting this frontloading approach we increase quality, advance maturity and reduce both time and costs.

This tool and process landscape allows a seamless transfer between a fully virtual development environment (Model-in-the-Loop) and a so-called Hardware-in-the-Loop testing environment. A Hardware-in-the-Loop approach can be used once the hardware for the Engine Control Unit (ECU) is available. Here, both software functions and electronic hardware can be tested in a wide variety of modeled environments and operating conditions.
A Complete Portfolio

Depending on your requirements, we can structure projects from single to multifunctional applications along the controls development chain. We can even deliver fully stand-alone turnkey solutions. Our approach lets you benefit from our extensive software and control expertise used in both prototype and series production.

In addition to sophisticated standard solutions, we also offer customized development services for combustion control along the entire V-cycle. These include complete product to specific requirements definition, rapid prototyping, function development, coding and testing.

We provide combustion control solutions for all kinds of gasoline, diesel, gas and multi-fuel engines. Our complete portfolio covers a variety of applications from 2-wheelers, passenger cars, light and heavy-duty on-road and off-road vehicles to large engines.
Benefits at a Glance
​​​​​​​
Independent control solutions from prototype to serial software combined with AVL system and calibration competence
Proven solutions in serial production from 2-wheelers to large engines for customers worldwide
Advanced and tailor-made control solutions to cope with increasing system complexity and short time-to-market
State-of-the-art development process and tool landscape certified according to ISO and Automotive SPICE level 3
---