{attributes={}, name=downloadList, data=, type=selection_break, options=[], optionsMap={}, mainTitle={attributes={language-id=en_US}, name=mainTitle, data=Discover more, type=text, options=[], optionsMap={}}, sectionList={attributes={}, name=sectionList, data=, type=selection_break, options=[], optionsMap={}, sectionIcon={attributes={language-id=en_US}, name=sectionIcon, data=newsletter, type=list, options=[], optionsMap={newsletter=Newsletter, download=Download, software=Software, white-paper=White Paper, webinar=Webinar}}, sectionName={attributes={language-id=en_US}, name=sectionName, data=Contact us, type=text, options=[], optionsMap={}}, downloadFiles={attributes={}, name=downloadFiles, data=, type=selection_break, options=[], optionsMap={}, LinkTitle={attributes={language-id=en_US}, name=LinkTitle, data=Get in touch with our High Power System experts!, type=text, options=[], optionsMap={}}, CTALink={attributes={language-id=en_US}, name=CTALink, data=https://www.avl.com/registration-cta?articleId=44664251&groupId=10138, type=text, options=[], optionsMap={}}, DownloadFile={attributes={language-id=en_US}, name=DownloadFile, data=, type=document_library, options=[], optionsMap={}}}}}
false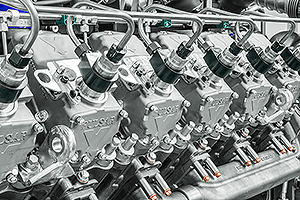 High Power Systems
ICE Development for High Power Systems
Comprehensive solutions for the engineering and optimization of large engines
Just as in other mobility sectors, large engine applications such as the shipping industry, construction, rail and power generation are facing pressure from competitive economic challenges and increasingly stringent emission regulations. These are the main forces driving improved optimization in these engines and their development.

Fuel efficiency, initial cost, reliability and service/maintenance lifecycle cost are key considerations for the creation of optimum engine performance that is perfectly tuned to the customer's needs. In addition to expertise in these areas, the appropriate application of the newest technologies for aftertreatment, waste heat recovery, auxiliary drives and cooling systems are vital to the demands of global legislation and the changing economic landscape.

At AVL this is just what we offer you. We are a world leader in internal combustion engine development with over 70 years of experience. We collaborate closely with customers around the globe thanks to our worldwide presence, delivering technological innovation, simulation-based and production-oriented development, modern testing facilities and system integration. These are all expressions of our technical competence and global expertise.

Our High Power System Solutions

All of our solutions are tailored to your unique goals, circumstances and use cases. They are based on a core offering of services, tools and methodologies, which include:
World-class product design on the basis of advanced virtual development methodologies
Smart large engine development processes
Single Cylinder Engine (SCE) setup
Engine concepts for the highest peak firing pressures and efficiency
Efficient product design covering both production and supply requirements
Specialized large engine aftertreatment system and emission expertise for SCR, DPF and EGR systems
System layout of complete power units, customized for each application
Layout and planning for entire large engine test facilities
Engine monitoring and detection of possible malfunctions
Performance and emission development, including new fuels (ammonia, hydrogen, methanol)
Large Engine Control Systems (ECS)
Large engine NVH development
Fast availability of technical specialists near customer sites anywhere in the world

In addition to the development of the next generation of high power systems, in order to find further efficiencies and optimizations, we also consider the entire energy chain. Our experts take into account the use of low carbon alternative fuels and more intelligent and efficient means of combustion. At every step of the way, at AVL we are leading the way in meeting current and future challenges in the large internal combustion engine market.
---