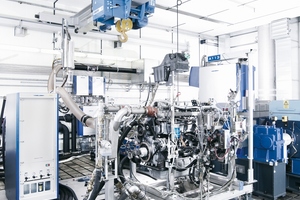 Mechanical Development and Validation
AVL offers mechanical testing for the verification and validation of engines, transmissions, exhaust gas aftertreatment and hybrid systems. Mechanical development activities cover all areas from component testing and engine testbeds, right up to full vehicle validation.
---
---
Solutions
AVL offers Design Verification and Validation Programs (DVP) based on AVL mechanical development test procedures and tailored for the specific powertrain application to meet the reliability and durability targets within an optimized development time.
Integrated approach of CAE and Testing for Verification
Optimized functional development test approach based on AVL test procedures
Implementation of specialized AVL measurement competences
Accelerated durability test programs on testbed and in vehicle validation
Durability test program optimization based on AVL Load Matrix
There is a closed loop approach to optimize development steps by employing the early involvement of analytical tools in the test program definition. Continuous development target allocation is based on performance indices derived from long term experience in automotive, commercial and off-highway development programs. The standardized test programs are combined with AVL specific development methodologies (DVP, Load Matrix) for adjustments to customer-specific targets. We also offer leading expertise in the friction analysis based on AVL testbed solution and engineering experience.
---
References
The following projects and tasks have been performed in the mechanical development and validation department:
CO2 reduction programs minimizing friction auxiliary system losses
Passenger car mechanical development programs from concept verification up to SOP
Heavy-duty truck engine functional development and durability testing
Exhaust gas aftertreatment system (SCR & DPF) verification and in-vehicle validation for EU6 and Tier 4 applications
In-vehicle validation programs for heavy duty truck development programs.
E-car development program definition
Fuel cell verification and validation program optimization
Off-highway engine durability testing and validation program optimisation for Tier 4
Implementation of data monitoring systems for EPA07 and EPA10 in-vehicle validation
Component and system development and validation
Troubleshooting activities of all powertrain systems worldwide
Research activities in materials, honing processes, friction
---
Benefits at a Glance
AVL Mechanical Development and Validation Department offers tailored solutions for optimised development programs with a high integration of CAE and statistical methods in the testing and validation process.
Design Verification and Validation Plan (DVP) and AVL Test Procedures Catalogue
Combination of Mechanical Development experience with AVL testbed solutions
Mechanical Development specific measurement techniques
Accelerated Durability Testing for engines, transmissions, exhaust gas aftertreatment, hybrid and E-systems
AVL Load Matrix validation experience– Leading method in validation optimization
Friction measurement competence (high level strip down, friction database, floating liner engine)
Trouble shooting competence (Damage analysis, Failure Tree..)
---