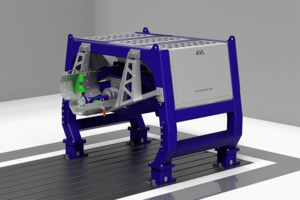 Get the optimum out of your engine applications
Load systems for Engine Testing
AVL offers dynamometers for different engines and test procedures ranging from eddy current dynamometers, hydraulic dynamometers, asynchronous as well as synchronous motors for testing even the largest cross head engines. High measuring accuracy and dynamic control are a must for AVL.
All Solutions
---
---
AVL Approach
The range of performance of modern engines demands dynamometers that are of the highest quality technologically, but are also highly reliable and equipped with precise measurement devices. AVL dynamometers meet these requirements in an optimal way.
---
Benefits at a Glance
Suitable for regular tests on engines, running-in schedule, performance tests, LD and HD emission cycle tests.
Normal functional tests such as cooling, lubrication, air intake, exhaust, fuel injection and fuel consumption, tests for external characteristics, acceleration tests.
The dynamometer can be used for power absorption and determining the engine power developed at various speeds.
---