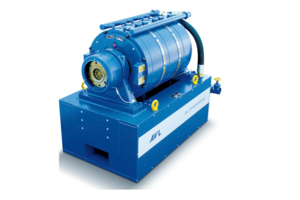 Load system with eddy current dynamometers
AVL DynoPerform
The AVL DynoPerform Dynamometers are dry gap eddy current dynamometers with a drum rotor design, which are suitable for a wide range of applications.
---
AVL Approach
EC dynamometers are employed to test the function and endurance of practically every engine component from the development phase to series production (e.g. bearings, belts (fan/timing), catalytic converters, ECUs, exhaust systems, filters, injection systems, lubricants, pistons, piston rings, plugs (glow/spark), pumps, radiators, seals, starters, turbo chargers etc.).
---
Benefits at a Glance
Excellent full-range torque and speed control stability
No air gap adjustment required
Very fast loading and unloading thanks to an IGBT full bridge power unit
High permissible coupling weights
The cradle mounting enables an easy calibration of the dynamometer with lever and weights
---
Characteristics
The Eddy current dynamometer is a cradled dyno. The reaction force of the brake torque is measured with a strain gauge-based load cell.
The measuring accuracy is influenced by the linearity of the load cell and the hysteresis of the dyno. The torque measuring system is calibrated by a leaver and dead weights. The measuring error of the load cell can be compensated by the measuring amplifier.
Applications:
Steady-state and transient applications
R&D for engines and components
Tests for fuel and lubrication oil
---