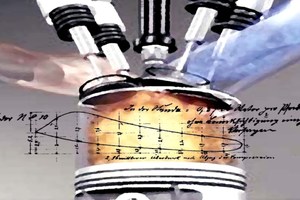 Complete Combustion Analysis Platform – from crank angle to time based
AVL Combustion Measurement Equipment
Complete combustion analysis platform covering pressure and optical signal measurement and conditioning, data acquisition and online and offline data evaluation - all crank angle based and cycle per cycle!
---
AVL Approach
Based on detailed knowledge and experience in the methodology of combustion analysis, AVL has developed practical tools and devices to make the complex thermodynamic processes of an engine visible and understandable. In order to support all phases of development, AVL offers different solutions for different tasks in combustion development, application and calibration.
---
Benefits at a Glance
Full combustion measurement platform with consistent communication, unique in the world
Flexible solutions for multiple applications
Perfect integration and communication with testbed and application system
Data security through integration into the testbed data management system
High precision of measurement through inbuilt plausibility checks
Open, homogeneous solutions for user-specific adaptations
---
Task
Fast but reliable combustion results as basis for engine development, calibration and optimization decisions
These days, legislation acts as a major driving force on the automotive market and brings about current development needs and trends.
Effective drive systems with the lowest emissions possible at moderate costs will be in high demand for all engines sizes. At the same time, the market is changing rapidly as a result of new manufacturers of engines/models appearing on the market and intensifying the competitive pressure on all OEMs.
All these circumstances lead to a trend of radically shortened development cycles in general. The combustion analysis will increasingly become a central test focus again, because future engines will have to incorporate several combustion concepts in parallel. Therefore, all test engineers, calibration engineers and development engineers as well as test-field managers are facing increasing complexity.
Engineers are facing new challenges again as they need stronger interaction and correlation between combustion analysis results in engine automation and control systems faster than ever before.
---
References
"Due to the combined use of indicating and visual methods I now understand the processes inside the combustion chamber." (customer statement)
ALL APPLICATION FIELDS
For basic engine calibration, optimizing fuel consumption or emission, combustion noise and mechanical diagnostics, optimizing engine performance or developing new combustion methods: AVL combustion analysis equipment is used worldwide, whenever detailed information about the combustion process is needed.
IN-HOUSE POWERTRAIN ENGINEERING EXPERIENCE
All AVL combustion analysis tools are practically tested and optimized in close cooperation with our in-house powertrain engineering teams. This is the key to offering products of the highest quality and reliability, another unique benefit for our customers.
INSTALLED BASE
Problem solving competency based on AVL's long-term experience in combustion analysis and the fact that AVL is the only manufacturer of a full indicating measuring chain make AVL the customer's preferred choice and the market and technology leader for high-end combustion analysis.
---
All Products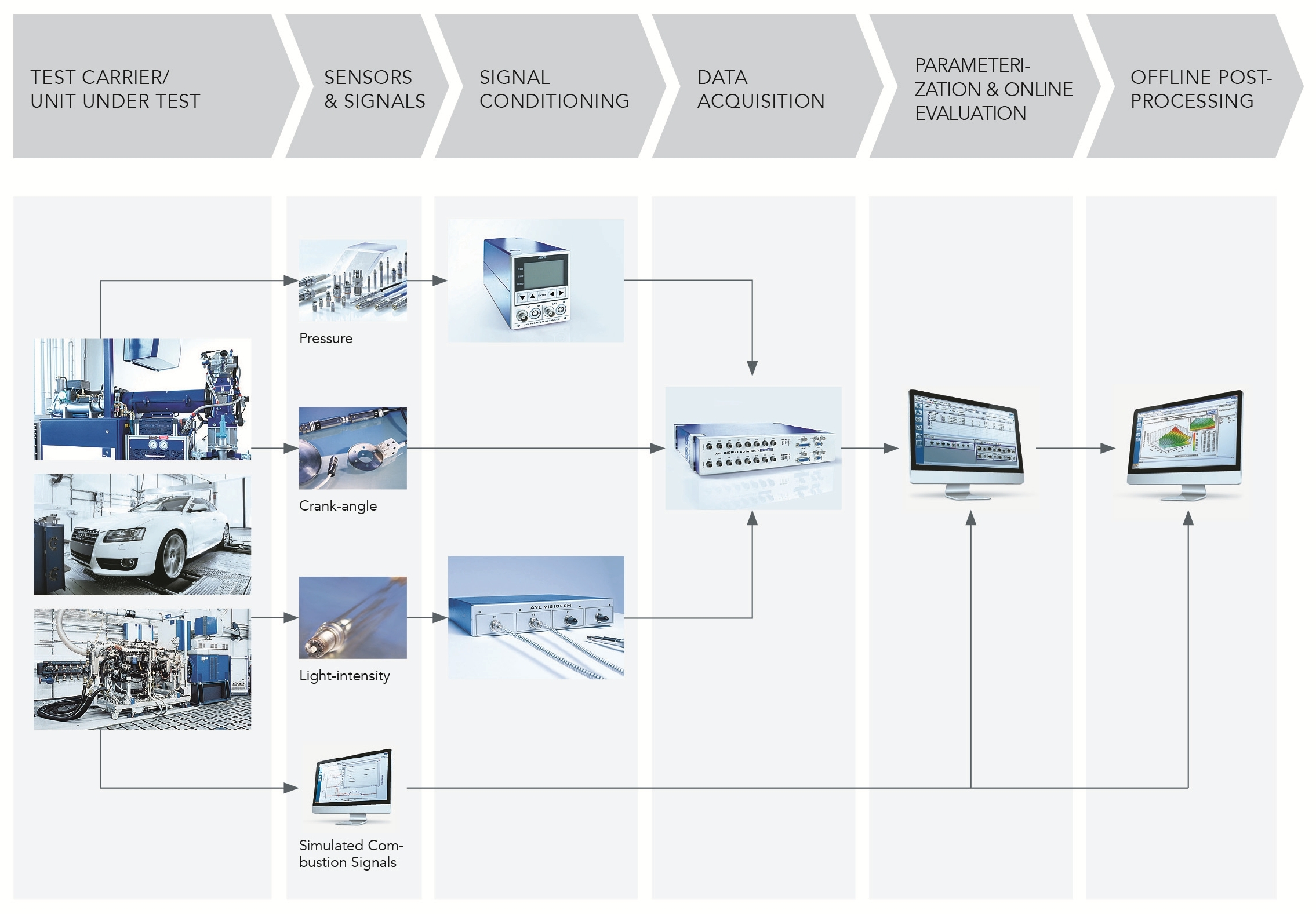 SINGLE CYLINDER RESEARCH ENGINES and COMPACT TEST BED
For development of engines, components, alternative fuels and lubes; with transparent access into the combustion chamber. Compact test bed solution and peripherals.

PRESSURE SENSORS FOR COMBUSTION ANALYSIS
Sensors for measuring cylinder pressures of internal combustion engines, pressures of the intake and exhaust pipes as well as in high pressure injection lines.

CRANK ANGLE ENCODER OF 365-SERIES
Angle Encoders 365C/X/R are highly accurate optical pickups for angle-based indicating measurements and torsional analyses on IC-engines.

CRANK ANGLE AND PULSE CONDITIONING
Engine indicating requires not only accurate pressure signals, but also accurate crank angle information: Absolute piston position, exact injection or ignition timings are necessary for detailed combustion analysis.

INDICATING AMPLIFIERS
Modular amplifiers for high-end conditioning of cylinder pressure, low pressure, displacement or timing signals for the purpose of combustion analysis.

ALL IN ONE INDICATING SYSTEMS
Compact indicating systems designed for mobile combustion development and demanding development tasks.
AVL X-ION™ MODULAR DATA ACQUISITION PLATFORM
This new platform combines indicating, optical and e-Power analysis technologies into a single package.
Improve understanding of individual powertrain components and gain deeper insights into their interaction.
AVL INDICOM™ - Advanced Combustion Analysis can be that easy
IndiCom is a software in the field of combustion analysis that combines the control of data acquisition with professional data evaluation for clear graphical presentation.
AVL GCA™ - Gas exchange and Combustion Analysis
AVL GCA is a high sophisticated tool for thermodynamic analysis of IC-engines. It is both a "virtual sensor" and a design tool for the whole engine process.
OPTICAL COMBUSTION ANALYSES: VISIOLUTION TECHLOLOGY
With the help of optical measuring methods, deep insights into the complex processes of fuel mixture and combustion beyond the findings of the pressure indicating method can be achieved.
OTHER SENSORS: TDC- & TURBO SPEED- & LIFT- SENSOR
Sensors for exact determination of top dead center (TDC), for acquisition of charger's speed and for determination of valve timing and needle lift movement.

AVL EPOS™ – OPEN ENGINE CONDITION ANALYSIS SYSTEM
A scalable monitoring system for large-bore engines in operation.

AVL CONCERTO™ - The easiest way to turn your data into meaningful information
CONCERTO is a generic data post processing tool focusing on quick and intuitive signal analysis, validation, correlation and reporting, for any kind of acquired data.
---