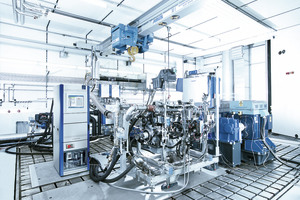 AVL Emission Measurement Solutions
AVL offers the complete range of emission test systems for certification, development and series monitoring on engine and chassis dynamometer testbeds.
---
AVL Approach
AVL offers the complete range of emission test systems for certification, development and series monitoring on engine and chassis dynamometer testbeds. The current iGeneration product line complies with the latest requirements of the global emissions regulations. AVL offers the highest quality products available on the market. Testbed solutions with permanent automation and data analysis that are integrated in the best possible manner provide the basis for the highest possible productivity. AVL particulate measurement technology comprises a wide range of applications. AVL offers test devices for measuring the lowest soot concentrations, for gravimetric measurements and for particle number counting as well as portable devices for in-vehicle testing during R&D and in-use compliance testing. Special conditioning units allow for measurements at high temperatures and pressures in front of filter systems (DPF). These special conditioning units also enable test cycles during high altitude simulations. With the Micro Soot Sensor and the Opacimeter, AVL offers solutions for determining emissions while driving as well.
---
Benefits at a Glance
Complete testbed solutions from one highly experienced supplier
Tailored systems for certification and/or development and/or COP (conformity of production)
Readiness for the future thanks to the latest technology as well as flexible automation systems
Broad, globally installed base with comprehensive know-how
Global service support
---
Market Requirements
The dramatically decreasing emission limits and the increased use of alternative fuels pose great challenges for engine and vehicle developers. On the basis of ever more complex engine and exhaust gas aftertreatment strategies and new requirements, such as the limitation of the particle number or the concentration of NH3, the complexity of testbeds and the requirements for automation systems are increasing dramatically. Along with the currently limited emission components, more and more substances are also measured. These include, for example, nitrogen compounds such as NO, NO2, NH3, N2O, HNCO or aldehyde compounds such as formaldehyde and acetaldehyde.
Further requirements result from the "in-use" and "real driving emissions" legislation which requires checking vehicles during real operation with portable emission measurement systems. The requirements for sampling are increasing as well, for example due to higher emission pressures in front of filter systems or by the need to avoid chemical reactions and deposits during probe gas sampling in emission measurements of SCR systems.
Considering the rising number of measurement parameters as well as the devices and subsystems to be used, the requirements for the operators and for the automation systems are increasing across the board. Nevertheless, the demand for an increase in productivity also has to be met. AVL has optimally prepared its emission measurement technology for these challenges and offers future-proof system solutions in connection with the integrated testbed automation system.
---