Metal Technician - Machining m/f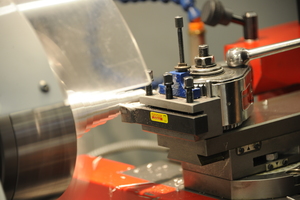 For all those who appreciate precision work on computer-controlled machinery
Metal Technician - Machining m/f
"I learn something new every day and what I like most is the exchange with other departments within AVL."
- Dominik, metal technician, 1st year of apprenticeship
---
What's it all about?
You will apply great skill and the utmost precision to the machining of surfaces with specific equipment and computer-controlled machines (CNC). Your work will also involve the machining of unusual materials so that they can be used for engine and vehicle construction. You will be integrated into production right from the initial stages; your claim to quality is high and your work is result-oriented.
---
What you will learn
Fundamentals of machining and forming (focus on milling and turning) of metal and plastic components
Rigging, programming and operating of computer-controlled production machinery based on the relevant standards
Service and maintenance of (CNC) machine tools and production systems for machining of materials
Safety regulations, standards, environmental and quality standards
---
How long is the apprenticeship?
---