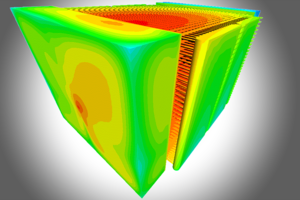 AVL FIRE™ Multiphysics Simulation of Solid Oxide Fuel Cells and Electrolyzers
The optimization of Solid Oxide Fuel Cells (SOFC) and Solid Oxide Electrolyzers (SOE) with respect to efficiency and lifetime is a major development focus to paving the way for successful market introduction and usage of SOFCs and SOEs in the context of future energy systems. AVL offers tailored solutions to meet your specific needs.
---
Dedicated Multiphysics 3D-CFD Simulation
AVL FIRE™ v2016 offers dedicated multiphysics 3D-CFD simulation capabilities to support the SOFC and SOE original equipment manufacturers and supply industry as well as the academic and non-academic research community in analyzing and optimizing the complex fluid-dynamic, thermal and electrochemical processes in the individual SOFC/SOE single cell and stack configurations.
By providing a detailed space and time resolved insight into the complex multiphysics processes in SOFC/SOE cells and stacks, AVL FIRE™ helps to optimize transient start-up and steady state operation with respect to media utilization, temperature and reaction current homogeneity, performance degradation/lifetime aspects etc.
Temperature (°C) distribution in the middle interconnect and simulated vs. measured electric power (W)
output and temperature (°C) in different monitoring locations of a Solid Oxide Fuel Cell
Fig. 2 H2 and O2 mole fraction in the middle cathode and
anode reaction layers in a Solid Oxide Electrolyzer
More about Simulation for Fuel Cells
---
AVL at the 12th European Fuel Cell Forum SOFC & SOE Forum, Luzern/Switzerland, 5-8 July 2016
Solid Oxide Fuel Cell APUs for Transport Applications (A0502)
Jürgen Rechberger, Michael Reissig, Jörg Mathe, Bernd Reiter
AVL List GmbH, Graz/Austria
Proof of concept for solid oxide electrolysis systems (A1304)
Richard Schauperl, Beppino Defner, Dominik Dunst, Jürgen Rechberger
AVL List GmbH, Graz/Austria
Recent Results of the Christian Doppler Laboratory for Interfaces in Metal-Supported Electrochemical Energy Converters (B0901)
Martin Bram (1,2), Marco Brandner (3), Jürgen Rechberger (4), Alexander Opitz (1,5)
(1) Christian Doppler Laboratory for Interfaces in Metal-Supported Electrochemical Energy Converters, Jülich/Germany,
(2) Forschungszentrum Jülich GmbH, Institute of Energy and Climate Research (IEK), Jülich/Germany,
(3) Plansee SE, Innovation Services, Reutte/Austria,
(4) AVL List GmbH, Graz/Austria,
(5) Institute of Chemical Technologies and Analytics, Technical University Vienna, Vienna/Austria
Development of robust metal supported SOFCs and stack components in EU-METSAPP consortium (B0903)
B.R. Sudireddy (1), J. Nielsen (1), Å. H. Persson (1), K. Thydén (1), K. Brodersen (1), S. Ramousse (1), D. Neagu (2), E. Stefan (2), J.T.S. Irvine (2), H. Geisler(3), A. Weber (3), G. Reiss (4), R. Schauperl (5), J. Rechberger (5), J. Froitzheim (6), R. Sachitanand (6), H. F. Windisch (6), J. E. Svensson (6), M. W. Lundberg (7), R. Berger (7), J. Westlinder (7), S. Hornauer (8), T. Kiefer (8)
(1) Department of Energy Conversion and Storage, Technical University of Denmark, Roskilde/Denmark,
(2) School of Chemistry, University of St Andrews, St Andrews/Scotland/UK,
(3) Institut für Werkstoffe der Elektrotechnik (IWE), Karlsruhe Institute of Technology (KIT), Karlsruhe/Germany,
(4) ICE Strömungsforschung GmbH, Leoben/Austria,
(5) AVL List GmbH, Graz/Austria,
(6) Department of Chemistry and Chemical Engineering, Chalmers University of Technology, Gothenburg/Sweden,
(7) AB Sandvik Materials Technology, Sandviken/Sweden,
(8) ElringKlinger AG, Dettingen/Germany
---